From our sponsors: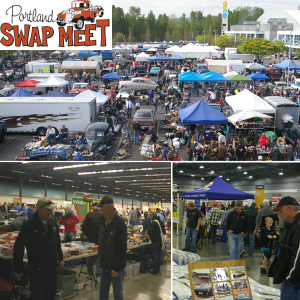 53rd Annual Portland Swap Meet
April 7 to 9, 2017
Friday: 7 a.m. – 7 p.m.
Saturday: 7 a.m. – 5 p.m.
Sunday: 8 a.m. – 1 p.m.
More info: expocenter.org
Portland Expo Center – Halls A,B,C,D,E, plus outside
2060 North Marine Drive, Portland, OR 97217
One of the largest swap meet experiences in Portland. This monstrous event takes up all the buildings of the Expo Center plus an additional 500,000 square feet of outside space. No matter what you are looking for, you may find it here!
Admission
Friday & Saturday:
$7 General Admission
Children 12 & under FREE
Sunday:
$4 General Admission
Children (12 & under) FREE