From our sponsors: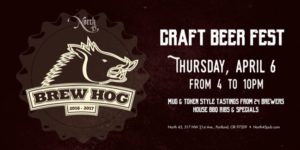 Brew Hog
April 6, 2017
4-10 p.m.
More info: north45pub.com | Facebook
North 45
517 NW 21st Ave, Portland, OR 97209
Join North 45 for the culmination of our Brew Hog series this Thursday, April 6th with our annual Brew Hog Blowout! All 24 brewers will be back on site for a craft beer fest on our patio.
Enjoy mug & token style tastings from all brewers, and it's your last chance this season to get Chef Steven's tasty BBQ ribs. Dig in on our Brew Hog special, our house double smoked Louisiana-style sausage on a hoagie with remoulade, red onion and slaw for $9. As always our full menu is available, too!
The party goes from 4-10pm. Be sure to check out our list of participating brewers below!

Brewers:
Ordinance
New Belgium
Gilgamesh
Rosenstadt
Crux
Culmination
2 Towns
Crazy Mountain
Ex Novo
10 Barrel
Breakside
Burnside
Backwoods
The Commons
Drinking Horse
Elysian
Bridgeport
Melvin
pFriem
Bauman's Cider
Old Town
Alameda
Worthy
Ninkasi