From our sponsors: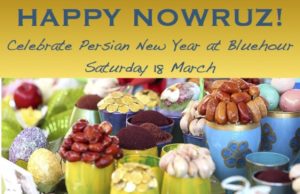 Persian New Year
March 18, 2017
7 p.m. | $65 | All Ages
More info: bluehour.brownpapertickets.com
Bluehour Restaurant
250 NW 13th Avenue, at Everett St.
Portland, OR 97209
PERSIAN NEW YEAR CELEBRATION AT BLUEHOUR
Bluehour's Executive Chef Chris Carriker is not shy about diving into different cultures to explore their culinary traditions and treasures. Celebrations and holidays around the world are rich with loved dishes that many in the west have not had the pleasure to discover.
Join us on Saturday night, March 18th to celebrate The Persian New Year with an exotic and delicious, five course culinary adventure. Chef Chris will prepare a delicious dinner, and DJ Foad will be playing a evocative mix of sensual music from the Middle East and America. This holiday feast of the March Equinox has been observed for over 3,000 years. We are honored to celebrate it here.
Let us take you on a culinary journey of food, people and music. The world is a fascinating place and we celebrate it with great food!
Buy your ticket for dinner at bluehour.brownpapertickets.com or just come by and sit in the dining room, or at the bar, or in the cafe and order from the regular menus. Deejay Foad will be spinning from 7 pm until midnight!