From our sponsors: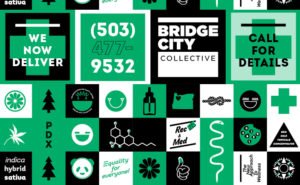 Bridge City Collective Now Delivers in Portland!
Call 503-477-9532 to order.
Bridge City Collective is offering cannabis delivery within 5 miles of their Southeast Center.
Where is that exactly? It's a big area! See map at bridgecitycollective.com.
Delivery is available between Noon – 8pm daily.
Delivery fee waived for first order and varies based on distance after that.Must be to primary residence house/apartment, within 5 miles in PDX.
Ready to order? Check out the menu online and call 503-477-9532 to place your order.