We are giving away a pair of tickets to Inaugurada La Primavera on April 22 at Crystal Ballroom . To win, comment on this post why you'd like to attend. Winner will be drawn and emailed Monday, April 10.
———————————————
From our sponsors: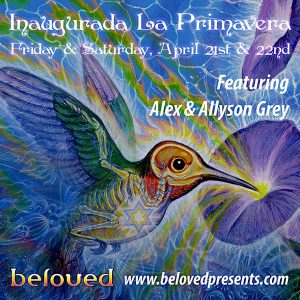 Inaugurada La Primavera
Featuing Alex & Allyson Grey + More
April 21-22, 2017
Doors 8 p.m., Show 9 p.m. | $35 ADV, | 21+
More info: Facebook
Tickets for April 21: eventbrite.com
Tickets for April 22: etix.com
Beloved Presents a 2-Day Community Activation of Hope and Vision featuring Alex Grey & Allyson Grey with live art, inspiring music and much, much more…
The bird has come
to bring light to birth.
From every trill of his,
water is born.And between water and light which unwind the air,
now the spring is inaugurated,
now the seed is aware of its own growing;
the root takes shape in the corolla,
at last the eyelids of the pollen open.
All this accomplished by a simple bird
from his perch on a green branch.
– Pablo Neruda, "Spring"
———
Stepping inside Pablo Neruda's stunning poem, we are reminded that spring is always here.
Even in these darkest days of this dark year of this dark era, we have hope for the future. Inaugurada La Primavera inspires us to cultivate a vision for a new world by sowing seeds of hope when the world feels hopeless.
Right now across the United States — amidst this swirl of dark times — immigrant families are being torn apart, undocumented folks are being denied their basic human rights, and our Latino brothers and sisters are being targeted, bullied, and shunned. While the government takes steps towards walls and bans and extreme vetting, it feels like our core values of humanity, respect, and solidarity are rapidly slipping away.
History has taught us that good and passionate people have struggled to find their voice and to speak out against hurtful actions and violence until we ourselves become the target. Yet we are learning from those mistakes. We know that our liberation is bound together.
Let us use our voices and speak out as our current government targets immigrants from Mexico and from South and Central America.
April 21 at Melody Ballroom
Dinner 6:30PM (Doors 5:30PM)
Show 9:30PM (Doors 8:30PM)
On Friday, April 21st, join us for an evening of joy and justice. Beloved Presents is partnering with and celebrating the vital work of Voz — a local worker-led organization that empowers diverse day laborers and immigrants to improve their working conditions and protect civil rights. 100% of the evening's profits go directly to Voz, supporting the essential role they play in our community. Enjoy a multi-course organic feast, showcasing delicious flavors of Mexico and the fresh bounty of the Pacific Northwest. (Vegetarian, Vegan, + Gluten-Free options available). We will share conversation and community as we sip local wine, listen to the moving music of the amazing Edna Vazquez, and lift up the voices of our Latino neighbors.
Artists Alex + Allyson Grey will be on hand for an eat-n-greet and will present on the link between vision and justice.
The show following dinner will feature legendary Chicano band Las Cafeteras and Gran Ritmos co-founder Coast2c.
April 22 at Crystal Ballroom
Show 9pm (Doors 8pm)
Buy Tickets Now
Join us on Saturday, April 22nd for a lively celebration of our collective hope and vision featuring Alex Grey and Allyson Grey!
Plus performances by dakhabrakha, Phutureprimitive, The Human Experience, and Orquestra Pacifico Tropical.
Please visit BelovedPresents.com for more information.
RSVP and share with your friends: fb.com/events/207929833004504/