From our sponsors: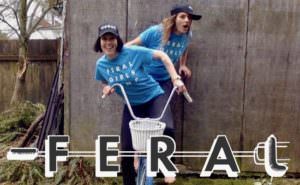 Feral Camp Night for Grownups to Benefit Feral Girls Camp
March 11, 2017
7-11 p.m. | $20 Suggested Donation
Adults 21+ of all genders (or none) looking to set their inner feral girls loose
More info: feralgirlscamp.com
Location: Where: 2510 NE Sandy (the old Atomic Auto building)
The best summer camp night of your life, in winter, for grownups!
Come relive a thousand summers, or experience summer camp for the first time! Roast hot dogs and make s'mores; play awesome camp games like tug-of-war, limbo, sardines, and capture the flag; make crafts at one of our camp craft tables; win prizes; sing camp songs; have your fortune told; get your picture taken in the photo booth with your camp crush! Bid in our silent auction for amazing goods from Loyly Sauna, XLB, Kirsten Holliday, Icon Tattoo, Emily Katz, Keen Shoes, Riley Richard Woodworks, Nossa Familia, Curious Comedy Theater, Oko, Amy Subach, Cassidy Pet Boutique, Seagrape, Lulu Lemon, Ps and Qs Market, OKO Portland, Golden Rule Design, Andrew Stanbridge Photo, Bernstein's Bagels, Sara Barner Bags, Andy Paiko Glass, Tidy Gnomes, Porque No, North Portland Yoga, The People's Yoga, and more!
$20 optional donation includes souvenir cup! We'll provide beverages and snacks for roasting on the fire. All proceeds from donations, raffle tickets, and auction go to benefit Feral Girls Camps.