From our sponsors: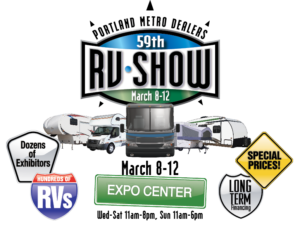 Portland Metro RV Dealers – Spring RV Show of Shows
March 8-12,2 017
Wednesday, Thursday, Friday & Saturday: 11 a.m. – 8 p.m.
Sunday: 11 a.m. – 6 p.m.
Adults (16 & up): $9
Seniors (60 & up): $7
Children 15 & under: FREE with Adult
More info: expocenter.org
Portland Expo
2060 N Marine Dr, Portland, OR 97217
(503) 736-5200
Get ready for a big show of RV's hosted by the Portland area RV dealers. You'll find dozens of brands, lines and styles to suit your RV lifestyle. There will be motorhomes, travel trailers, campers, fold out campers, and so much more. If you are interested in the RV lifestyle, come to this show!
Parking/Directions
Parking is $8 per space, per entry. Carpools of three or more are $7.
Exhibitor parking is $7 and includes in and out privileges.