We are giving away a pair of tickets to Red Fang @ Revolution Hall on March 16. To win, comment on this post why you'd like to attend. Winner will be drawn and emailed Monday, March 13.
———————————————
From our sponsors: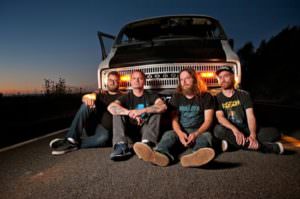 Red Fang
March 16, 2017
Doors 8 p.m., Show 9 p.m. | $20 ADV / $25 DOS | 21+
Tickets: revolutionhall.com
Revolution Hall
1300 SE Stark St, Portland, OR 97214
Ever since their inception in 2005, Portland's RED FANG have strived to write heavy, catchy music underlaid with subtle complexities. Founded by David Sullivan, Maurice Bryan Giles, Aaron Beam, and John Sherman, the band had a distinctive and fully-formed sound right from the start: a mix of compelling rock songwriting and party-hard metal euphoria that speaks to the headbanger, the hesher, and the music student alike. The band's two-pronged vocal attack and knack for finding the sharpest hooks made sure that the music world caught on right away. Within just one year of RED FANG's first show, they were opening for genre stalwarts Big Business and The Melvins, and soon began appearing at festivals including FYF, Fun Fun Fun Fest, Sasquatch Fest, and more.
After the release of their self-titled debut (Sargent House, 2009), RED FANG signed to independent label Relapse Records for the release of their 2011 full-length Murder the Mountains, which hit #25 on the US Top Heatseekers chart and received widespread critical acclaim. RED FANG followed that record up with a slew of dates worldwide, and two years later, released Whales and Leeches, which put the band on the US Billboard charts (at #66) for the first time and garnered praise from outlets ranging from Spin and Metal Injection to Stereogum and Alternative Press. The success of Whales and Leeches even led to a live appearance on Late Show with David Letterman in January 2014.
Danava
There are many paths to the jeweled gates of liberation: possession, ecstasy, sacrilege, heresy. Paradox subjugates ego in the transcendent thrust toward the eternally expansive. The star studded spacecraft known as DANAVA, dispatched as it was from America's rainy northwest coast, emerged on the midnight horizon with an obscure 4 song masterpiece as a shining symbol of freedom in sound. Critics have done their best to identify this flying object with all manner of convenient but ultimately meaningless qualifiers and all have missed the mark. This is not "stoner rock", even if the pilots are probably stoned. This is not "progressive rock", for the boundless soul thwarts gentrification. This is not "space rock", although their heads are full of meteor dust their boots still waltz in the gutters of Whitechapel sin. This is not "retro rock", because tomorrow calls even as the third eye glances in reverse to hail electric ancestry. Armed to the teeth with Orgone amplification and mesmeric Luciferian aether, the technicolor demon people have risen from primordial depths to dispel all curses and sever all bonds.
Norska
In the winter of 2009, four musicians who had played in the same circles for many years decided to make a record. The combination of their eclectic influences, writing styles, and tastes, came together to produce a sound that moves and motivates them to explore new territory within their collected creative consciousness. The band works to create music that expresses the range of the human condition and experience by combining crushing, down-tuned riff assaults with intricate vocal and guitar melodies, and stunning leads. The music seems to play the band as they surrender to its will. Their sound spans many genres, while they intend to break themselves with their mix of progressive guitar work, doom, and all out metal energy.