From our sponsors: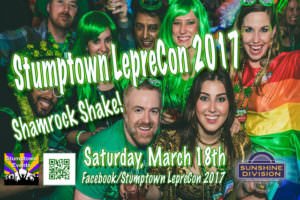 Stumptown LepreCon
March 18, 2017
1 p.m. | $10 | 21+
Tickets: eventbrite.com
More info: Facebook
Oregon Convention Center
777 NE Martin Luther King Jr Blvd, Portland, OR 97232
Join Stumptown Events for the 6th annual Stumptown LepreCon – a Progressive Costume Dance Festival. 21+ only
We've partnered with The Portland Shamrock Run! We're offering a discount wristband with your registration for this year's Shamrock Run. And the first 300 will get a discount on your Shamrock Run Registration with your Advanced purchased wristband for Stumptown LepreCon!
We'll start at The Shamrock Fitness Fair at the and do the "Shamrock Shake" over the Burnside Bridge to Kells!
St. Paddy's Day Costume and $10 wristband is required. Discounts and free cover provided with a wristband. A portion of the proceeds will be donated to the Portland Police Sunshine Division Inc.
Costumes are required! St. Paddy's Day Theme! Wear something green, blinky and illuminated. Get into the spirit of the season. Your costume has to be more than just a green shirt or a button.
This is a participatory event. Do not expect us to entertain you, though we will. Bring something LepreCons will enjoy like: rainbows, gold, an Irish flag, inflatable snakes, toys, games, buttons, signs, and a kick-ass costume.