From our sponsors: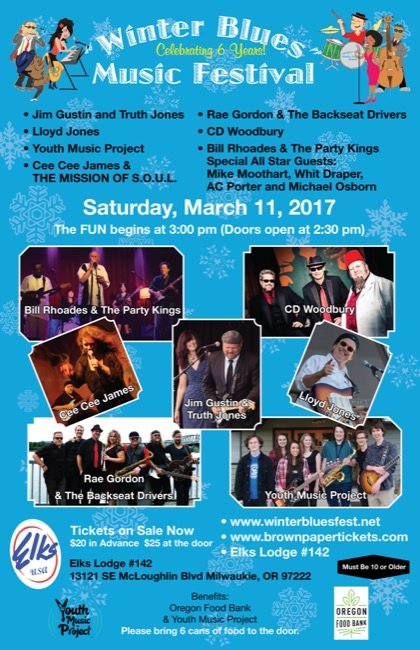 Portland 2017 Winter Blues Festival
March 11, 2017
Doors 2:30 p.m., Music Starts at 3 p.m.
More info: winterbluesfes.net
Elk's Lodge
13121 SE McLoughlin Blvd, Milwaukie OR 97222
In cold winter months, live music lovers usually have to wait for the summer festival season where they can kick up their heels and dance to local and nationally acclaimed acts. One woman has solved that problem by offering an annual music festival that rivals anything you would see during the summer months, from the audiences to the top notch talent known throughout the world. LeeAnn Gibbons had an idea with humble beginnings over a conversation at the kitchen table to counteract the dreary days of winter with music. She wanted to also have it benefit charity. Her dream is now in its sixth year and the Winter Blues Festival has become the most popular blues music event outside of summer.
Every year, WBF offers some of the best local and national acts. This year is no exception and will highlight some of the biggest stars of the West Coast from California to Washington.
Award winning Lloyd Jones is the total package when it comes to the blues and roots music. He is not only a much sought after entertainer throughout the United States, he is also known in his hometown of Portland, Oregon as one of the founding members of blues in the area as it is known today. In addition to his many performances on sea and land, here and abroad, he has also recorded six critically acclaimed albums. Cee Cee James based in Washington is as raw and real as it gets and can bring an audience to its knees with her performances. A gifted songwriter, she brings THE MISSION OF S.O.U.L. to the Winter Blues Festival stage. Rae Gordon & the Backseat Drivers is fronted by 3 time award winner for Best Female Vocalist by the Cascade Blues Association out of Portland and has been inducted in the hall of fame. Her band will be fresh from their participation in International Blues Challenge, which is competition for bands from around the world. Guitarist and singer/songwriter CD Woodbury is an 8 time winner of Washington Blues Society awards and has had his recordings continue to rise on charts. Long-time local favorite and nationally acclaimed musician and harmonica player Bill Rhoades, brings his band The Party Kings to finish the night with a special All Star jam. The "Godfather" of the northwest blues scene has long been credited for adding to the international acclaim that the northwest has gotten for blues. California based band Jim Gustin and Truth Jones is a high energy soulful, blues act that has been turning heads wherever they go. The mix of the smoky rasp vocals from Big Jim Gustin paired with the strong and lovely voice of Jeri Goldenhar is a sweet and delicious combination, which has also resulted in airplay and charting. The charity that will benefit this year from the festival will also be performing. Past recipients throughout the years have been including C.H.A.P. (Children's Healing Arts Project), the Oregon Food Bank and United By Music North America and this year will be no exception in giving back through music. In addition to benefiting, this year's charity will also perform. This year's highlighted charity – the Youth Music Project, an organization based in West Linn, will be providing a band of their best.
The event is at Milwaukie Elks Lodge & Ballroom and will highlight music on two stages. The event venue also offers a large dance floors, a full service bar and food menu, on-site parking and is across the street from the MAX Orange line and bus stops. Doors open 2:30 p.m., music starts at 3 p.m. with raffle and silent auction items.
The Winter Blues Festival has helped many charities throughout the years
For those attending the festival from out of town, there are a number of lodging opportunities nearby, including the Milwaukie Inn, Econo Lodge and Kings Row in Milwaukie, Best Western Rivershore in Oregon City and Holiday Inn Express in Gladstone. There is also dry camping available at the Lodge.
Join them on March 11, 2017, listen to award winning acts and make a difference for Youth Music Project. In addition, you also have a chance to contribute to the Oregon Food Bank. Please bring 6 cans of food. For tickets, please go to www.winterbluesfest.net. The venue is the Elks Lodge & Ballroom, 13121 SE McLoughlin Blvd., Milwaukie, Oregon 97222.