From our sponsors: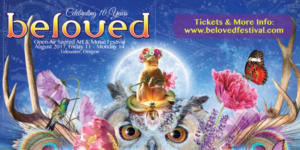 Beloved Festival Early Bird Tickets
72 Hours only! February 28, 2017
$225 Weekend Pass
Tickets Available for a limited time at belovedfestival.com
2017 Beloved Festival
August 11-14, 2017
Tidewater Falls
12154 E Alsea Hwy, Tidewater, OR 97390
Beloved Festival celebrates 10 years as it returns to Tidewater, OR this August! Early Bird tickets go on sale 2/28 at 10am PST for 72 hours only. Don't miss your chance to experience this truly unique and authentic sacred art, music, and yoga festival on the Oregon coast!
Tickets & More Info: belovedfestival.com
Beloved returns to Tidewater Falls to celebrate 10 years this August! What is sure to be the "Best Beloved Ever!" will take place Friday, August 11th to Monday, August 14th.
Join us as we aim to dissolve the boundaries that isolate us through music, dance and play. We aspire to engage the hearts and minds of those present in the finding of the beloved in each other; and furthering our ability to cooperate to make that appreciation tangible on earth.