From our sponsors: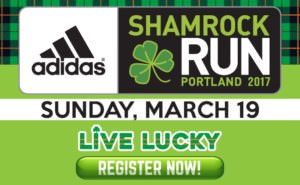 Portland Shamrock Run
March 19, 2017
Cost 5K, 8K, Walk: Ages 3-13 $15, Adults $44
Double Down Challenge (5K + 8K): $54
Half: $95
More info: shamrockrunportland.com
Celebrate St. Patrick's Day Weekend to the fullest by taking part in the 39th annual adidas Shamrock Run – Oregon's largest running event!
Live music, Widmer Beer Garden and Shamrock Irish potato soup awaits finishers at the post-race celebration. There's something for everyone: 5k, 8k and 15k and half-marathon races. The new 4-mile Shamrock Stride and the kids 1km (0.6-mile) Blazers Leprechaun Lap run/walk. Kick-off the weekend with the Shamrock Fitness Fair at the Oregon Convention Center. Register today for a weekend of fun!
NEW AT SHAMROCK!
Giant tents over the beergarden and soup areas
New faster routes for all run distances
New scenic Shamrock Stride walk route
Double Down Challenge for the 5k and 8k
Blazers surprises at the Leprechaun Lap
Beergarden and music open longer
HERE'S WHAT PARTICIPANTS RECEIVE:
A souvenir adidas Shamrock Run T-shirt
A 12-ounce pour of Widmer Brothers beer (for participants 21 and older)
A 6-ounce serving of Shamrock Irish potato soup made from Pacific Foods products
A commemorative 15k Shamrock medallion (15k finishers only)
A commemorative Shamrock Half-Marathon medallion (Half-Marathon finishers only)