From our sponsors: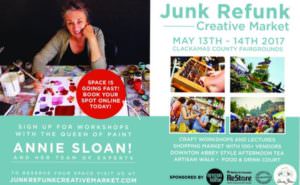 Junk Refunk Creative Market
May 13-14, 2017
Early Bird $25 (7 a.m.), General $10 | All Ages | 9 a.m. – 5 p.m.
More info: junkrefunkcreativemarket.com
Clackamas County Event Center
694 NE 4th Avenue, Canby, OR 97013
The Junk Refunk® Creative Market was inspired by Annie Sloan's presence at the Handmade Fair UK in which Cheryl and her husband Nigel visited 2015. With the success of Junk Refunk® 2015 and 2016 Street Market, this is one of the most innovative and hands-on events for those who love to combine their love for junking, inspiration and creativity combined with fun hands-on workshops for the junker and crafters alike. We believe we have the best hand-picked vendors and crafters for you.
The Clackamas County Event Center see's Junk Refunk® Creative Market combine interviews, demonstrations held in the Chatter Box Theatre with hands-on Creative Workshops held in the Everything Annie Sloan Upcycled Building and Creative Crafting Workshops held in the Clackamas Hall building.
Add to all of this the opportunity to shop from over two floors of handpicked vendors selling amazing handmade and upcycled products for you, your home and garden.Visit our vendors as part of our Artisan Walk, where you will find anything from local cheese, chocolate, jams and much more as well as scrumptious food, drink and afternoon tea Downton Abbey style, visitors cannot help but have an amazing day or Mothers's day treat weekend out – it's the ultimate day out for those looking to get inspired, and try something new and right here in Canby, Oregon.