From our sponsors: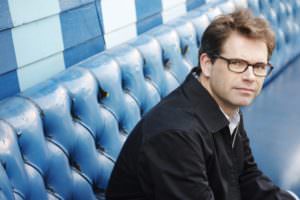 Dana Gould
February 23-25, 2017
8 p.m. Thursday, 7:30 & 10 p.m. Friday & Saturday
$15-$31 | 21+
Tickets: heliumcomedy.com
Helium Comedy Club
1510 SE 9th Ave Portland, OR 97214
(888) 643-8669
I was born and raised in the ironically-named town of Hopedale, Massachusetts. I started performing stand-up comedy at the age of 17, three short weeks out of high school. As a performer, I was too young to be any good. As a person, I was socially inept and looked weird. Let's skip ahead!
Eventually, I got my groove on. And my friend, on it has stayed!
I attended U-Mass, Amherst for a couple years, and then dove head-first into the halcyon days of "The Comedy Boom". I moved to Los Angeles in the dawning years of the go-go 90's, and was fortunate enough to be on the receiving end of several network development deals. The goal here is to get a comedian, hook him to a writer, and have them create a TV pilot. Over time, I had my hand in more pilots than an Air Force proctologist.
In 1992 I wrote and performed an autobiographical one-man show called Insomnia. It was a genuine, theatrical one-person show, not just my stand-up act with a chair and a lamp. The show told the story of the events in my life that lead to me becoming a person so fascinating that I warranted a one-man show. I look back on Insomnia now as a youthful indiscretion that I kind of regret. But it was too late, for by this time I had honed my whining to an art form, and I had become white-hot in the business. I was all sizzle and all steak. You read that right.
In quick succession, I performed in several HBO specials, as well numerous guest appearances on Late Night With Conan O'Brien and The Late Show with David Letterman. I recorded the CD Funhouse, which was called "a comedy CD" by Billboard magazine. As an actor, I appeared on Seinfeld and The Ben Stiller Show. I was a series regular on the NBC series "Working" (which wasn't, and was soon cancelled).
Along the way, I discovered that the writing process was a lot more creatively fulfilling than acting was. Acting requires getting up before dawn and sitting around all day in a small trailer with a waterless toilet. That said, you get to wear make-up!
After writing the pilot "World On A String" (with Jay Kogen), I co-created MTV's late, lamented, Super Adventure Team (with Rob Cohen). I then joined the staff of The Simpsons, where I squatted for seven years. Stand up remains a big part of my career, and I continue to perform regularly. I recently appeared in the film "The Aristocrats". and am preparing to record my next stand-up CD. I live in Los Angeles with my wife and a bunch of kids and dogs, many of them ours.