From our sponsors: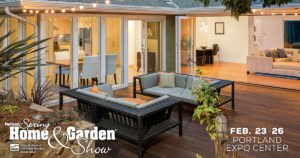 Portland Spring Home & Garden Show
February 23-26, 2017
Thursday -Saturday: 11 a.m. – 8 p.m.
Sunday:11 a.m. – 6 p.m.
$10 – General Admission
FREE to children 12years and under
More info: homeshowpdx.com
Portland Expo Center – Hall D, E
2060 N Marine Dr, Portland, OR 97217
For the past 70 years, the Northwest's most popular home show has drawn thousands of homeowners with plans and dreams – seeking the experts to make their projects come to life. The Portland Home & Garden Show will once again be filled with garden and home vendors, accessories galore, furniture for every area of your home, artists, authors and of course plenty of gardening gurus. Be sure to tour the 12 inspirational Excellence in Landscaping garden displays – designed with your home in mind! Plus, shop and compare with hundreds of outstanding vendors – this is the show of choice for homeowners and gardeners alike! The show runs February 23 to 26 at the Expo Center and is the official show of the Home Builders Association of Metro Portland, and sponsored by the Oregonian – be sure to visit www.HomeShowPDX.com for event details and discount coupons!
The Excellence in Landscaping Competition is everyone's favorite feature at the Portland Home & Garden Show! Meet with landscape designers, view outstanding examples of plant material, flowers, hardscapes and marvel at water features, rockwork, and creativity galore! The 12 marvelous gardens are created to entice homeowners and those with a green thumb with the scents and sounds of spring – and provide plenty of inspiration. Discover new garden designs, imaginative themes and view the latest color trends, stunning wood work and art, and of course plants of special interest!
Come see beautiful orchids blooming within the The Portland Orchid Society displays. It's a show within a show with magnificent floral arrangements! For those enchanted by these astonishing flowers, you can find an incredible array of orchids presented and for sale. Bring your camera because the displays are gorgeous and awards will be presented for the best in show displays.
The Original Plant Sale is a favorite for gardeners! The Plant Sale will have abundant nurseries participating and provide the ultimate in spring inspiration and gardening. You'll find a very nice selection of plants including: shrubs, grasses, perennials, trees, bulbs and so much more all in one place. Did your garden get damaged from all the rain, snow, ice and cold? Get ready to create your dream backyard… come to the Plant Sale!
Home Depot – will once again be featured at the Portland Spring Home & Garden Show! The experts at Portland's local Home Depots will create workshops for the do-it-yourselfers and homeowners wanting to get projects underway. The Free Workshops are on going and perfect for those interested in planting projects, paints and stains, hardwood flooring and even carpeting! The huge workshop area will also feature a complete At Home Services Department, where you can learn about siding, decking, roofing, as well as, gardening, plant material, power garden tools, installations, and energy saving appliances and other needs. Come see the big display, and take in a DIY workshop!
The Artisan Gallery is one of the most popular features at the Portland Home & Garden Show! Each year, we search for great artists, sculptors, painters, metal workers, inventors and more. You can even watch amazing works of art created right before your eyes, or take home the perfect work of art for your home or garden! The artists come from all over the northwest and take up residence at the show.
Lastly, the Northwest Independent Writers Association will be back at the show presenting dozens of local authors all in one great area. You'll be able to peruse dozens of great books in a comfy area with bookcases and places to hide away. Each year, you can meet local authors who create fantastic literary works in all genres from mystery, suspense, sci-fi, romance and even DYI. Support your local author and buy a book or two!