From our sponsors: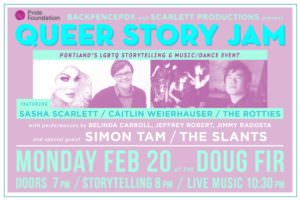 Queer Story Jam
February 20, 2017
Doors 7 p.m., Show 8 p.m. | $15-$25 | 21+
More info: ticketfly.com
Doug Fir Lounge
830 E Burnside St, Portland, OR 97214
Sasha Scarlett brings LGBTQ Storyteller Theater + Music event called Queer Story Jam! to the Doug Fir Lounge and Jupiter Hotel on Monday, February 20th with an amazing lineup including Simon Tam of The Slants fresh off appearing before SCOTUS, Belinda Carroll, Jimmy Radosta, Jeffrey Robert. Co-produced with Caitlin Weierhauser and B Frayn Masters!
This show's theme is Love Queermerica Style and is all about LOVE. Following the show (this is the "jam" part) a show featuring the band ROTTIES with Heatherette Seafoam! The goal of Queer Story Jam is to give a voice to the stories of the LGBTQ community especially to women, transgender and people of color including our allies. Please join us! Proceeds benefit Pride Foundation.