From our sponsors: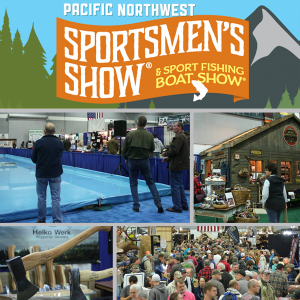 Pacific Northwest Sportsmen's Show
February 8-12, 2017
Wednesday – Friday: 11 a.m. – 8 p.m.
Saturday: 10 a.m. – 8 p.m.
Sunday: 10 a.m. – 6 p.m.
Adults: $12
Kids: $5 (ages 6-16)
Kids 5 & under: FREE
2 day Pass: $18 (No other discounts available with 2 day pass)
Credit cards welcome. $1 fee per transaction.
Tickets: ev12.evenue.net
More info: expocenter.org
Portland Expo Center
Halls – A,B,C,D,E, 2060 N Marine Dr, Portland, OR 97217
The Pacific Northwest Sportsmen's Show returns to the Expo Center for 5 days of outdoor vendors, seminars, experts, boats, trailers, camping gear, and just about everything for the sporting person in your life. This is the largest outdoor event in the Northwest! Now you can by-pass the lines and buy your tickets early at TicketsWest!
Parking/Directions
Parking is $8 per space, per entry. Carpools of three or more are $7.
Exhibitor parking is $8 and includes in and out privileges.
Find Directions or plan your trip on TriMet's Trip Planner