From our sponsors: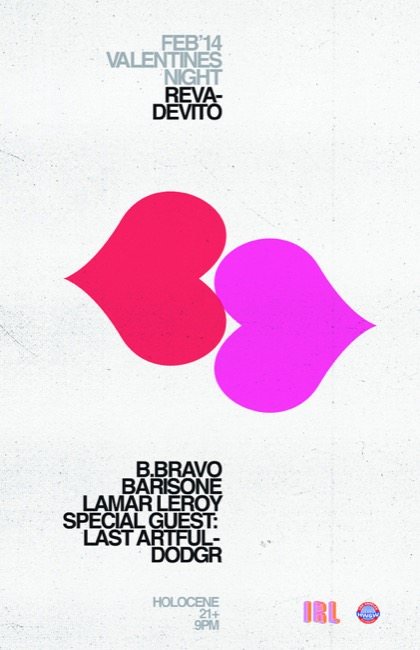 Valentine's Night w/ Reva DeVito
B. Bravo, BARISONE, DJ Lamar Leroy, The Last Artful, Dodgr
February 14, 2017
8:30 p.m. | $10-12 | 21+
More info: holocene.org
Holocene
1001 SE Morrison St., Portland, OR, 97214
Reva Devito
Sultry and fun, modern yet timeless: DeVito offers up a diverse array of music with a soulful backbone. This Portland, Oregon songstress pours heart, not only into her studio sessions, (recording with producers such as: Kaytranada, Com Truise, & B.Bravo etc.) but effortlessly displays a soulful and spellbinding live performance that leaves the audience feeling warm and fuzzy.
HILLY DILLY: "Portland-based songstress hits you right in the heart with the kind of vocal tone that could warm up a concrete-walled room in the middle of winter."
B. Bravo
B. Bravo brings his own sound of synthesizer funk to any track he lays is hands on, whether in the studio, behind the turntables at a club, or performing live on stage. As an original member of the Frite Nite crew, he is also a driving force in the Modern Funk Movement.
BARISONE
Barisone is without a doubt one of PDX's best loved DJ's. His magnanimous presence and penchant for putting the dancefloor into sublime outer spaces is well known. With versatile crates that seamlessly span the upfront to the time tested, Barisone comes with dj sets filled with his own loops, layers, and edits that always set the party off.