From our sponsors: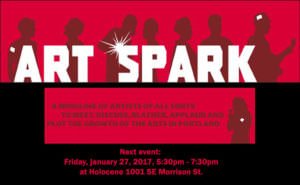 Art Spark
January 27, 2017
5:30-7:30 p.m.
More info: portlandartspark.com
Holocene
1001 SE Morrison St, Portland, OR 97214
We are excited 2017 is here and feels all about the possibilities.
Art Spark is excited to host space for the creative, arts and culture community and everything in between to connect, get informed and be excited. This month we are focusing on opportunities to support your work. We have invited community partners MESO and Metro and Portland Community Media aka PCM to inform us on their upcoming opportunities and support services. We will announce upcoming RACC grants, workshops and other RACC opportunities for Public Art , the Right Brain Initiative and Work for Art. We will also have time and space for small group discussions to happen around funding, community building and shaping the next few months of Art Spark. We look forward to seeing you there!
If you are not following us on Facebook, we invite you to join us and stay informed about current opportunities and connections happening in the Portland arts community and beyond.
For any direct comments or inquiries, please be in touch with Tonisha Toler.