From our sponsors: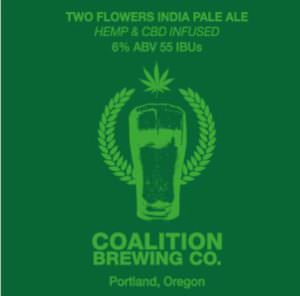 Two Flowers India Pale Ale
On Tap as of January 18, 2017
The East Burn
1800 E Burnside St Portland, OR 97214
(503) 236-2876 | More Info: www.theeastburn.com
EastBurn is now pouring Coalition Brewing's Two Flowers IPA, the first commercially produced Cannobidoil (CBD) Hemp infused beer in Oregon. Get some before it sells out!
About Two Flowers IPA
Coalition Brewing is excited to announce the release of the first commercially produced Cannobidoil (CBD) Hemp infused beer in Oregon. Our mission with this beer series was to encompass a true collaboration of these "kissing cousins", hops and cannabis. These two plants produce similar organic aromatic compounds known as terpenes, and will have no THC present, the psychoactive element found in marijuana. We have been working with leaders in this immensely fast growing local industry on this project to showcase a harmony of both the beer profile of the Pacific NW and the Cannabis plant. This new emerging industry has many hallmarks of our own industry, with a focus on community, innovation and a positive impact to the local economy. We are excited that beer once again is giving us the opportunity and platform of breaking down barriers.
The first beer in this unique series will be "Two Flowers". A CBD (cannabidoil) and Hemp Infused India Pale Ale
The base style is a west coast IPA that is light, crisp, bitter and refreshing. But in an effort to showcase the synergy between hops and hemp we've infused this beer with both hemp juice and CBD oil. The bitter grassiness from the hemp juice augments the hop bitterness, while the citrusy terpenes in the CBD oil mirror the aromatics and hop flavors.
6 % 55 IBUs – 5 mg of CBD per 10oz glass!