From our sponsors: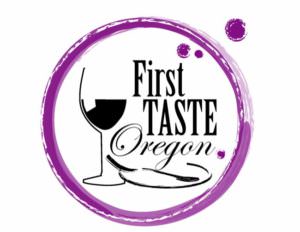 First Taste Oregon
January 27-28, 2017
Friday 4-10pm
Saturday Noon-10pm
More info: firsttasteoregon.com
Oregon State Fair & Exposition Center ~ Columbia Hall
2330 NE 17th Street, Salem Oregon 97301
First Taste is an event of epic proportion, featuring the best in Oregon Wines, Craft Breweries, Hard Ciders, Delectable Eats and a one of a kind shopping experience. We offer live music both days in 2 locations throughout the First Taste event, featuring local music from talented artists all over the state of Oregon. First Taste offers a little something for everyone including luxurious art work from some of the states most renowned artists. Whether your looking for a relaxing wine tasting experience or a sampling of something a bit more extravagant, First Taste has something to offer all who attend!
Entertainment
First Taste Oregon event would not be complete without some incredible musical talent. We are excited to be featuring a full line up of musical talent on two different stages for your enjoyment. Sip on a glass while at our piano bar stage or lounge around the main stage being entertained by talented musicians.
Photo Booth
Oregon Lottery sponsors a fan favorite, The Photo Booth. Grab your friends, your sense of humor, and prepare for an amazing one of a kind photograph memorializing your time at First Taste.
Tickets
Tickets are available for purchase online prior to the event, tickets will also be sold at the main entry during the event. Same day ticket sales will be cash or card only and there are ATM's located on site.
Adults $10, Seniors $8
Children under 6 are free
Designated Drivers $10, Group discounts available, please call
VIP
Get the most out of your First Taste experience with our VIP tickets. VIP tickets will include admission into the event, a commemorative event glass, and complimentary tastes from two of our hand picked exhibitors. VIP admission can be purchased for two days for $40.
Tastes
Individual tastes are sold separately by our exhibitors and can be purchased directly at the event. Many of our exhibitors will offer a taste of their specialty for free!
Art, Wine, Brew, Spirits and Food
First Taste is featuring some of the industry's best winemakers, craft brewers, artists and culinary masters. If wine is not your thing, enjoy a gluten free hard cider or a craft brew from one of the state's best craft brewers. With over 100 various artists and commercial vendors, your sure to find a one of a kind must have item.