From our sponsors: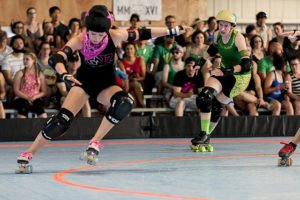 Rose City Rollers
January 28-29, 2017
All Ages | More info: rosecityrollers.com
The Hangar at Oaks Park
7805 SE Oaks Park Way, Portland, OR 97202
(503) 233-5777
Sat. Jan 28th: Season 12 Opener: Break Neck Betties v Heartless Heathers &High Rollers v Guns N Rollers | BUY TICKETS »
Doors open at 5pm, Event starts at 6pm.
Get ready for the Rose City Rollers Season 12 Season Opener!
A lot has happened since the High Rollers took first over Guns N Rollers and the Betties triumphed over the Heathers in the three/four game. Roster changes, an entire off season to get stronger and tighter. These teams are looking hot.
Come check out your favorite RCR home teams rematch last season's champs bouts. Don't miss this!
Bout #1:Break Neck Betties vs. Heartless Heathers, Bout #2: High Rollers vs Guns N Rollers
TICKET PRICING: (in advance) Reserved Seating $24, General Admission $18 | (day-of) GA cash $20 | credit card $22
Sun. Jan. 29th: Rosebuds All-Stars vs LA's Angel City Derby Girls A-Listers & Rose Petal's Killer Bees vs Voodoo Dolls | BUY TICKETS »
Doors open at 12:30pm, Event starts at 1pm.
Don't miss the best Junior Roller Derby that Portland has to offer!
Our Rosebuds All-Star team has been prepping for this all season! Welcome the A-Listers from LA Derby Girls. Let's show these Californians what it means to play derby in Portland!
Rose Petals Killer Bees vs Voodoo Dolls! Will the Killer Bees' sting be enough to take out the Dolls? Only one way to find out!
TICKET PRICING: (in advance) Reserved Seating $7, General Admission $10 | (day-of) GA cash $8 | credit card $9
———-
Derby FAQs
Parking will be free for this event! Food and beverage is cash only. League merchandise sales do accept credit cards. There is an ATM located in the skating rink at Oaks Park. No outside drinks are allowed in except sealed water bottles.
Please note, sitting alongside the track puts you within feet of the action and places you at higher risk of involvement in a skater collision. No one under 18 is permitted to sit on the floor alongside the track. Arrive early enough to make seating arrangements you are comfortable with.
ADA seating is available.
This event may be broadcasted live. By reading this, you agree that your voice, image, or likeness may be included in the broadcast, or non-broadcast media, or as part of promotions and marketing for the Rose City Rollers.
No photography/video recording permitted without prior approval.
Children 6 and under are free for this event. Limit 1 child per adult.
Online ticketing goes offline 6 hours prior to the event. There will always be at least 30 tickets for sale at the door for every event. They go on sale when Doors open. There is a limited number, and sales are first come, first serve.
Interested in group or special ticketing for the event? Go HERE.