From our sponsors: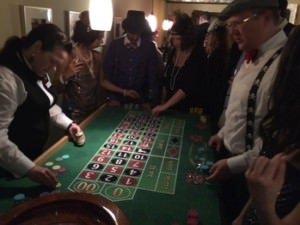 New Year's Eve Speakeasy Casino Night
December 31, 2016
8:30 p.m. | $69 | 21+
Tickets: wine30nye.brownpapertickets.com
Wine:30
10835 SE Main St – back door
Milwaukie, OR 97068
Flashback…. 1920 – 1933 Prohibition of the selling of alcohol – the depression is on – work is hard to find, and folks need a release and a place to unwind…Speakeasies are born!
Enjoy a night of dressing up and truly ringing in the New Year – a night to remember in style!!
Listen to live music blazing away as the dice are rolling across the tables, the next winner cheers as their number hits on the roulette table; you hear the magic sound of "21" at the blackjack tables and "payday" hits.
Take a break from the tables and hear the welcoming "pop" of long-disappeared bottles of bubbly, and see the bubbles flow one more time within the darkened windows of Milwaukie's only working speakeasy…shhhhhh – don't tell anyone though – as we are just across from City Hall – nothing better than doing it right under their noses!
Get your name on the list by purchasing one of our limited tickets.  Name on the list and password are required – or no entrance...don't make me get the boys and their Tommy guns after you!
Cost includes:
A fun night of entertainment w/entrance to Speakeasy
$100 of script money to play the tables (Craps, Blackjack, Roulette)
Live Music
Lite Bar Snacks
Champagne Toast at Midnight
Prizes
Plus, you don't fight the crazy crowds of downtown Portland.
We have sold out every year and have had to turn people away – don't be one of those – buy your tickets now!
As tickets are very limited and nonrefundable.
You must ensure you pre-arrange your ride home and/or have a designated driver as taxi service as at this time it will be very difficult and Wine:30 staff will not be responsible for finding you a ride.