We are giving away a pair of tickets to January IPA Challenge @ Hawthorne and 15th Avenue Hophouses. To win, comment on this post why you'd like to attend. Winner will be drawn and emailed Wednesday, January 11.
———————————————
From our sponsors: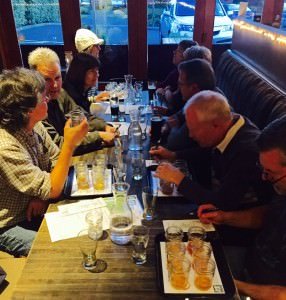 5th Annual 2017 IPA Challenge
January 2017
$12 / Person
More info: oregonhophouse.com
Hawthorne Hophouse
4111 SE Hawthorne Blvd., Portland, Oregon 97214
503-477-9619
15th Avenue Hophouse
1517 NE Brazee St., Portland, Oregon 97212
(971)266-8392
Starts on New Years Day. Open at noon!
If you don't already know, January is the month we curate a blind taste test of 12 different IPAs.
Take the blind taste test. Win prizes.
Pick your favorite – the most popular beer gets put on all year round at both Hophouses.
Past winners have been – Breakside IPA, Pallet Jack by Barley Brown. RPM by Boneyard (2 yrs). One year Vortex won by a few votes at 15th Avenue but the overall favorite between the two pubs was still RPM.
This is how the 2017 top 12 Oregon IPAs got chosen –
We talked to Hophouse staff and Hophouse patrons over the past month or two about their favorite IPAs. We balanced the list off between four older stalwarts (past winners and customer picks) and included eight new beers, some produced by large breweries and some by small breweries. Some of the beers were write-ins by our customers on an in-store and online feedback survey we conducted over the last month.
Culmination Phaedrus
Pfriem IPA
Barley Brown Pallet Jack
Boneyard RPM
Golden Valley Bald Peak
Deschutes Fresh Squeezed
Ecliptic Orbiter
Breakside IPA (flagship)
Coalition Space Fruit
Hop Valley Citrus Mistress
Rogue Seven
Sunriver Vicious Mosquito
Not only do you pick your favorite (blind), but you correspond the beers you think you know with a list, and the best beer tasters win prizes.
Here is how it works:
You'll get a flight of 6 IPAs, and a separate list of 6 beers.
You try to match the 6 with a list of 6 beers.
Then you get a second flight, and repeat with a second list.
If you get 10-12 matches right, you get a free mug club membership (sweeeeet!!!).
There will be lesser prizes awarded as the contest progresses.
All lists will be graded on Tuesdays for the prior week.
Cost to enter the contest is $12/person.
Prizes include T-shirts, mug club memberships, growlers, gift cards, etc.