We are giving away a pair of tickets to John Paul White @ Dante's on January 14. To win, comment on this post why you'd like to attend. Winner will be drawn and emailed Monday, January 9.
———————————————
From our sponsors: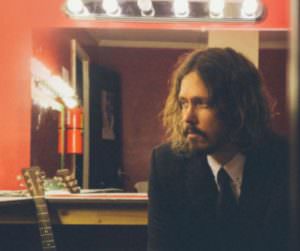 John Paul White
January 14, 2017
Doors 7 p.m., 8 p.m. | $17 | 21+
Tickets: aladdin-theater.com
Dante's
350 W Burnside St, Portland, OR 97209
Beulah. It's a small, complicated word with a tangle of meanings.
It's the title of John Paul White's new album, his first in nearly a decade, a remarkably and assuredly diverse collection spanning plaintive folk balladry, swampy southern rock, lonesome campfire songs, and dark acoustic pop. Gothic and ambitious, with a rustic, lived-in sound, it's a meditation on love curdling into its opposite, on recrimination defining relationships, on hope finally filtering through doubt.
Beulah is also a White family nickname. "It's a term of endearment around our house," White explains, "like you would call someone 'Honey.' My dad used to call my little sister Beulah, and I call my daughter Beulah. It's something I've always been around."
Beulah is also something much loftier. For the poet and painter William Blake, Beulah was a place deep in the collective spiritual unconscious. "I won't pretend to be the smartest guy in the world," says White, "but I dig a lot of what he's written. Beulah was a place you could go in your dreams. You could go there in meditation, to relax and heal and center yourself. It wasn't a place you could stay, but you came back to the world in a better state."
And perhaps the music on this album originated in that "pleasant lovely Shadow where no dispute can come." According to White, the songs came to him unbidden—and not entirely welcome. "When these songs started popping into my head, I had been home for a while and I was perfectly happy. I wasn't looking for songs. I didn't know whether any would pop back in my head again, and I was honestly okay with that. I'm a very happy father and husband, and I love where I live. I love working with artists for a label that I think is doing good work."
Far from the grind and glamour of Nashville—where he worked for years as a working songwriter before stepping into the spotlight himself—White settled in his hometown of Muscle Shoals, Alabama, a wellspring of gritty Southern rock and soul since the 1960s. Together with Alabama Shakes keyboard player Ben Tanner and Shoals native Will Trapp, he founded and runs Single Lock Records, a local indie label that has released records by some of the Yellowhammer State's finest, including Dylan LeBlanc, St. Paul & the Broken Bones, and legendary songwriter and keyboard player Donnie Fritts. The label is based in a small ranch house a stone's throw from White's own home, which would come in handy when those songs started invading his head.
The Kernal
TAPPING IN TO COUNTRY MUSIC'S LONG-TIME STANDARD OF STORY-TELLING, THE KERNAL USES SOUTHERN MUSIC INFLUENCES, FROM JAZZ TO HONKY TONK, TO ACCESS A SOUND BOTH UNIQUE AND UNIVERSAL.
The single "Green, Green Sky", following his debut FAREWELLHELLO, cut live at the Ardent Studios in Memphis and produced by Jeff Powell (Bob Dylan, Big Star, Centromatic, etc.,) is a tale of wanderlust and misguided ways set against the backdrop of a honky tonk rhythm and classic country vocal. The south flies through The Kernal's lyrics, adding authenticity to the feel of the music, "But the tit for tat teaspoon's stirring round the night moon/ Sir, that ain't no summer breeze."
Based in Jackson, TN, The Kernal & His New Strangers call the Downtown Tavern home and from that halfway point between two Tennessee music mecca's, tour the country with their home-grown brand of Southern mystique. Tied deeply to the legacy of the wandering musician and the historic Grand Ole Opry, the Kernal, a southern gentleman with an old soul and youthful ambition, found his sound and showmanship in the greats of the classic Country music scene like Del Reeves. "My dad," The Kernal reminisces, explaining the impetus of the band, "met Sleepy LaBeef at Limebaugh's Restaurant in Nashville. Lonzo & Oscar were looking for a drummer and he asked my dad if he could play a shuffle beat on the table. He did and he left for a 10-day run the next day. It worked out because soon he was playing with Sleepy." From there, his father found his way to The Kendalls, and eventually to the legendary Del Reeves, with whom he would play until Reeves' death in 2007. His father died in September of the same year and the seed was planted. This legacy of the old country music way, of rock and roll on the fly, was not lost on the Kernal, and he took it as starting point from which to build his own contribution to the cannon of southern music.