From our sponsors: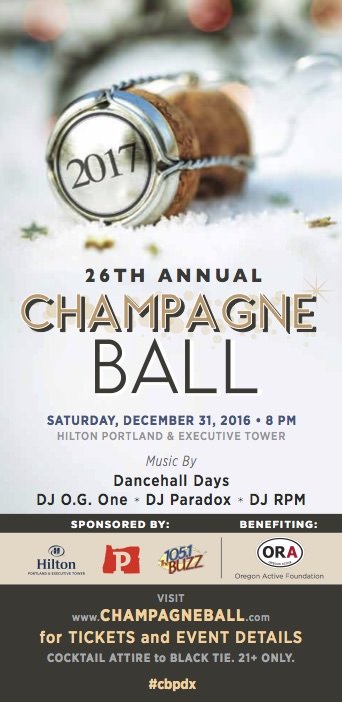 2016 / 2017 Champagne Ball
December 31, 2016
8 p.m. | General $109 / VIP Tables Available
Tickets: eventbrite.com
More info: champagneball.com
Portland Hilton and Executive Tower
921 SW 6th Ave Downtown Portland
503-226-1611
The Top 10 Reasons to Attend the Champagne Ball
Incredible Entertainment: Our entertainment will have you dancing all night long! In the Grand Ballroom, live music from

Dancehall Days

with DJ RPM spinning during band breaks. DJ Paradox will be on the Galleria dance floor and DJ O.G. One will be holding court on the 23rd Floor until 2:00 AM.
Massive Countdown: We have huge balloon drops, confetti canons, a ton of party favors and video countdowns on three dance floors.
17 Bars: We keep lines to a minimum with 17 bars.
The Party is in a Hotel: Pre-func in your room and ride the elevator to the event.
Our Host is the Best:

Daria from 105.1 the Buzz and 94.7 FM

will be in the house to to keep the fun going all night.
No Date. No Problem: We offer guests singles beads so they can subtly send the signal that they're looking for a dance partner or someone to toast with a midnight.
Food is Included: Your ticket includes hot and cold hors d'oeuvres buffet with desserts and midnight pizza!
Party with a Purpose: The Champagne Ball benefits the Oregon Active Foundation. ORA is a great non-profit organization that provides Adventure Therapy for people in our community that have disabilities and other life challenging conditions.
Photos with A Llama: That's right you can get your photo taken with Rojo the Llama and his buddy Napoleon the Alpaca.
Dress to Impress: Everyone will look their best in cocktail attire or black tie.
We are grateful for the support the community has shown us for 26 years and we want you to know that our staff will work very hard to ensure that your New Year's Eve experience is one to remember.
Get your tickets ASAP; we are on track to sell out even earlier than we did last year.