From our sponsors: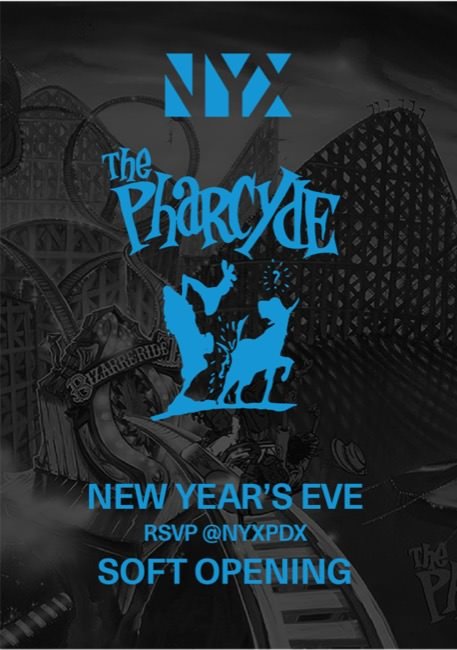 The Pharcyde and Brett Hartt
December 31, 2016
9 pm. | Starts at $50 | 21+
More info: nyxpdx.com
RSVP @NYXPDX on Instagram or Twitter
NYX
215 W Burnside St, Portland
2017 won't just be the beginning of the new year, it'll also be the beginning of NYX and a brand-new nightlife experience in Portland. At 9pm on New Year's Eve, NYX will open her doors to a limited and private event with legendary 90s alternative group, The Pharcyde, to celebrate the genesis. Formerly the iconic downtown Greek restaurant Alexis, this historic site will now be the home to NYX and the birth of a nightlife renaissance for Portland.
NYX is named after the Greek Goddess of night, inspired by and paying homage to Alexis, which had been one of the most authentic Greek restaurants in Portland for more than 30 years. Honoring that tradition, NYX will continue to tell the story of its predecessor with subtle Alexis and Greek cues throughout the experience. From the menu to the décor, Alexis will continue to inspire.
NYX aims to be the pinnacle private venue to amplify Portland's best DJs as well as showcase headliner acts. This two-story nightlife experience will lead The Pharcyde of 90s golden-era fame. Complementing the live performance will be LA's world class DJ, Brett Hartt. At countdown, NYX will ensure that all glasses are full of champagne to say goodbye to 2016 and start 2017 off in the best possible way.
With a Grand Opening slated for February, NYX is excited to hold an exclusive and private event for those who want to be the first to experience a brand-new nightlife experience.
NYX is the brainchild of owner/operators Jupiter Desphy VII of Dig A Pony, Angel Face, and Kask; Jupiter Desphy V of Marquee and Tao (Las Vegas); and Joel Priest of Slow and Low, Red Fox, and Horse Brass.