From our sponsors: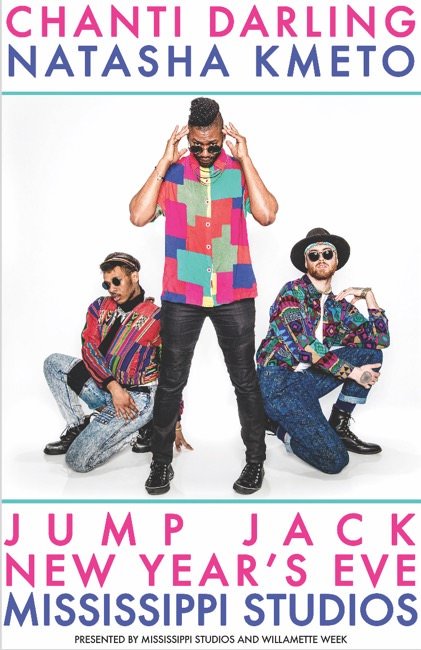 Natasha Kmeto, Jump Jack NYE Dance Party!
December 31, 2016
Doors 8 p.m., Show 9 p.m. | $22.5 ADV / $25 DOS | 21+
Tickets: mississippistudios.com
Mississippi Studios
3939 N. Mississippi, Portland OR 97227
Chanti Darling
1: Chanti Darling p. noun \'ʃǽnti dɑ́rlɪŋ\- :Future Funktified Post R&B(oogie) ; Sexy jams for days on in ;Not so Quiet Storm…
Natasha Kmeto
Natasha Kmeto is an electronic producer/vocalist dedicated to the art of emotional engagement. Writing, producing, and performing all her material, Kmeto combines her sensuous voice with a dancefloor ethic, exuding a thoughtful physicality that rewards openness and vulnerability. Stylistically she explores the lines intersected by RnB, soul, and dance music, built using an electronic toolkit developed by years of discipline. She's most at home when on stage, singing to her fans' hearts and playing to their bodies.
Natasha's artistic growth has accelerated after years of hard work. She's at her most self-realized on her latest LP Inevitable, an album that deals with matters of love and a newly affirmed personal outlook. She has increasingly embraced her identity as a queer female, letting it interweave with and inform her talents as a musician. Like anyone undergoing the lifelong process of self-acceptance, Natasha's growth is expected continue in inventive ways.
Natasha tours nationally out of her home base in Portland, Oregon. Her long list of notable live performances include a 2014 national tour supporting TV On The Radio, gigs at Coachella, Bumbershoot, MusicfestNW, Electric Forrest, Symbiosis, SXSW, Low End Theory, and Decibel Festival. She has shared the stage with a number of talented artists including Four Tet, Squarepusher, Flying Lotus, Flume, Machinedrum, Dam Funk, Kode 9 and Shlohmo. Releases by Natasha have been featured by many acclaimed media outlets including NPR, Pitchfork, Spin, Fader, Resident Advisor and Rookie. Her radio experience includes live performances on Boiler Room and KEXP, and her tracks have been played by numerous tastemaking DJs including the legendary Mary Ann Hobbes.
Jump Jack NYE Dance Party!
Jump Jack Sound Machine is Portland's new dance floor and incubator for movers, groove makers, art darlings, and audiophiles with an ear for deeper cuts. House, Garage, Disco, Break, Tech; Jump Jack will focus on the sounds that have defined dance music as we know it, with a strong emphasis on vocal melodies. ( You wanna know where that sample came from in that dope house track?) Well, come and find out.
That said, it's not just a cute dance floor. You should come to sweat.
Jack your body!