From our sponsors: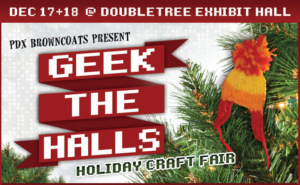 Geek the Halls Holiday Bazaar
December 17-18, 2016
10 a.m. – 5 p.m. | Free
More info: pdxbrowncoats.com
More info: Facebook
DoubleTree Hotel Portland
1000 NE Multnomah St, Portland, Oregon 97232
Join us for our 7th Annual Geek the Halls December 17th and 18th at the Lloyd Center DoubleTree Exhibit Hall. Admission is FREE.
One stop shopping for all your geek gift giving (and having) needs!
A list of vendors can be found at www.pdxbrowncoats.com.