From our sponsors: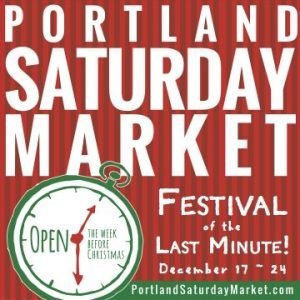 Festival of the Last Minute
December 17-24, 2016
More info: portlandsaturdaymarket.com
Waterfront Park & Ankeny Plaza
2 SW Naito Parkway, Portland, OR, 97204
No time to check everyone off your "nice" list? No problem! 'Tis the season for the Festival of the Last Minute! And as with any welcome holiday tradition, Portland Saturday Market returns with its one-stop event for all those who've delayed starting their shopping — and those who simply don't want to stop.
Festival of the Last Minute hours:
Sat. Dec 17: 10 a.m.- 5 p.m.
Sun. Dec. 18: 11 a.m.- 4:30 p.m.
Mon. Dec. 17- Fri. Dec 23: 11 a.m.- 5 p.m.
Christmas Eve (Sat. Dec. 24): 10 a.m.- 3:30 p.m.
Open daily from December 17 right through Christmas Eve, the marketplace will once again feature one-of-a-kind handcrafted items, exotic foods and an appropriately chilly, yet perennially cool atmosphere. The event marks the perfect opportunity to shop the work of talented area artists and support the local economy, with some 40 categories of arts and crafts. After all, just because you didn't make the gifts yourself doesn't make them any less handmade, or thoughtful.
In addition to the shopping extravaganza, daily holiday festivities are sure to add to the experience. Stop by Santa's booth, get cozy at several warming stations, and enjoy the sights of seasonal decorations and the sounds of roving carolers. Holiday treats are provided, as is SmartPark Garage validation (2 hours) or a free TriMet ticket for purchases of $25 or more. What's more, special events will offer shoppers niche options such as Holiday Spirits Fest 2016, set for December 17 & 18 from 11-4:30 (21+ valid ID) — a weekend to showcase the craft wares of local distillers, just in time for your own soiree.
SANTA BOOTH: 12-3PM
ROVING CAROLERS: 12-3PM
FREE HOLIDAY TREATS: 12-3PM
Warming stations in Food Court
Seasonal Decorations