We are giving away a pair of tickets to Railroad Earth: New Year's Run 2016 / 2017 @ Revolution Hall on December 29. To win, comment on this post why you'd like to attend. Winner will be drawn and emailed Monday, December 19.
———————————————
From our sponsors: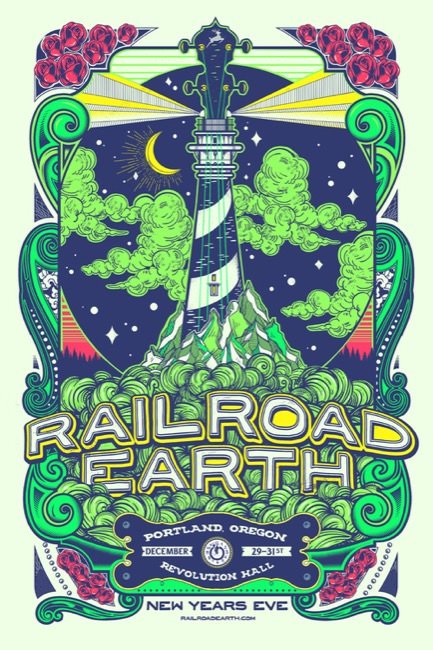 Railroad Earth: New Year's Run
December 29, 2016
Doors 7 p.m., Show 8 p.m. | $25 ADV, $30 Doors, 3-day Pass $90 | 21+
Tickets: revolutionhall.com
Revolution Hall
1300 SE Stark St, Portland, OR 97214
971 808 5094
There's a great scene in The Last Waltz – the documentary about The Band's final concert – where director Martin Scorsese is discussing music with drummer/singer/mandolin player Levon Helm. Helm says, "If it mixes with rhythm, and if it dances, then you've got a great combination of all those different kinds of music: country, bluegrass, blues music, show music…"
To which Scorsese, the inquisitive interviewer, asks, "What's it called, then?"
"Rock & roll!"
Clearly looking for a more specific answer, but realizing that he isn't going to get one, Marty laughs. "Rock & roll…"
Well, that's the way it is sometimes: musicians play music, and don't necessarily worry about where it gets filed. It's the writers, record labels, managers, etc., who tend to fret about what "kind" of music it is.
And like The Band, the members of Railroad Earth aren't losing sleep about what "kind" of music they play – they just play it. When they started out in 2001, they were a bunch of guys interested in playing acoustic instruments together. As Railroad Earth violin/vocalist Tim Carbone recalls, "All of us had been playing in various projects for years, and many of us had played together in different projects. But this time, we found ourselves all available at the same time."
Crow and the Canyon
"Crow & The Canyon are a band with a future. They have a good look, they're affable and easy-going on stage and the most important thing, (obviously) they sound tremendous.
All of the signifiers of a fantastic night of pickin' were there: sad songs, drinking songs, dancing songs and of course: heartbreak songs. Austin Quattlebaum, Ben Larsen and Leigh Jones are all accomplished vocalists and players in their own right, but when on stage together they meld into something transfixing. The group went from rowdy, old school drinking numbers where they traded lines and harmonized wonderfully, to slower numbers were Jones played siren to every wistful (wishful?) single fella in the audience.
Featuring a Portland music scene vet in Ben Larsen, an Appalachia-via-Savannah, GA Southerner in Austin Quattlebaum, a bassist who cut his teeth in Santa Cruz's funk scene in Miles Berry and Leigh Jones, an NYU-educated ukulele player, The Crow & The Canyon's lineup is quite a bit more diverse than most. It's also a very Portland lineup, as part of what makes this wonderful city so amazing is the fact that it serves as a beacon for creative types to come together in an environment conducive to producing art. I can't help but postulate that such a varied background has something to do with the "it" that TC&TC have in spades."
-Donovan Farley, True Blue Magazine