From our sponsors: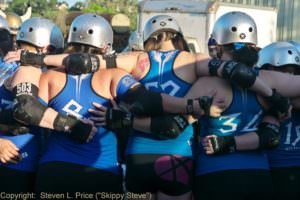 Rose City Rollers
December 2-4, 2016
All Ages | More info: rosecityrollers.com
The Hangar at Oaks Park
7805 SE Oaks Park Way, Portland, OR 97202
(503) 233-5777
Fri. Dec. 2nd: Heartless Heathers vs Bend's Lava City Roller Dolls | BUY TICKETS »
Doors open at 7pm, Event starts at 8pm.
The Heartless Heathers are excited to be hosting Lava City in a match up that could only be described as the battle of fire and ice!
Lava City's Travel Team, The Smokin' Ashes are coming to Portland from Bend, to battle RCR's black-hearted viking queens.
When asked about the bout, the Heather's captain Story said "winter is coming."
TICKET PRICING: (in advance) Reserved Seating $20, General Admission $14 | (day-of) GA cash $15 | credit card $16
Sat. Dec. 3rd: Double Header! Rose Petals Daughter of Doom vs. Voodoo Dolls and Rosebuds Death Scar Derby Droids vs. Undead Avengers | BUY TICKETS »
Doors open at 6pm, Event starts at 7pm.
Looking for a great all ages event to take the family to? Come check out this awesome double header featuring RCR's junior skaters.
First, the Rose Petals' Daughters of Doom take on the Voodoo Dolls. These two team feature RCR's youngest skaters, featuring girls 7-12 years old.
Closing out the double header is a matchup between RCR's Rosebud teams the Death Scar Derby Droids and the Undead Avengers. Will the Derby Droids use the Force to take down Portland's favorite zombies? Come and check it out!
TICKET PRICING: (in advance) Reserved Seating $14, General Admission $10 | (day-of) GA cash $11 | credit card $12
Sun. Dec. 4th: Rosebuds Little Red Riveters vs Undead Avengers | BUY TICKETS »
Doors open at 12:30pm, Event starts at 1pm.
The Little Red Riveters go toe stop to toe stop with the Undead Avengers! These two teams are part of RCR's Rosebud junior skater program, featuring skaters 12-17 years old.
Watch America's hardest working sweethearts take on the undead in a match up that will leave you on the edge of your seat.
TICKET PRICING: (in advance) Reserved Seating $10, General Admission $7 | (day-of) GA cash $8 | credit card $9
———-
Derby FAQs
Parking will be free for this event! Food and beverage is cash only. League merchandise sales do accept credit cards. There is an ATM located in the skating rink at Oaks Park. No outside drinks are allowed in except sealed water bottles.
Please note, sitting alongside the track puts you within feet of the action and places you at higher risk of involvement in a skater collision. No one under 18 is permitted to sit on the floor alongside the track. Arrive early enough to make seating arrangements you are comfortable with.
ADA seating is available.
This event may be broadcasted live. By reading this, you agree that your voice, image, or likeness may be included in the broadcast, or non-broadcast media, or as part of promotions and marketing for the Rose City Rollers.
No photography/video recording permitted without prior approval.
Children 6 and under are free for this event. Limit 1 child per adult.
Online ticketing goes offline 6 hours prior to the event. There will always be at least 30 tickets for sale at the door for every event. They go on sale when Doors open. There is a limited number, and sales are first come, first serve.
Interested in group or special ticketing for the event? Go HERE.