From our sponsors: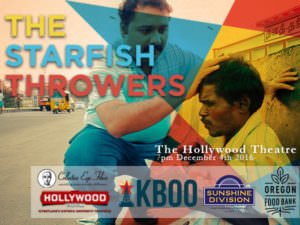 Collective Eye Documentary Films presents The Starfish Throwers
December 4, 2016
7 p.m. | General 9 p.m., Senior/Student/Child $7 | All Ages
More info: hollywoodtheatre.org
The Hollywood Theatre
4122 NE Sandy Blvd, Portland OR
Worlds apart, a five-star chef, a twelve year-old girl, and a retired schoolteacher discover how their individual efforts to feed the poor ignite a movement in the fight against hunger. Despite being constantly reminded that hunger is far too big for one person to solve, they persevere and see their impact ripple further than their individual actions.
Award-winning chef Narayanan Krishnan, fighting against the caste system in India, quits his job to begin a life of cooking and hand-delivering fresh meals to hundreds of people in his hometown. Katie Stagliano's planting of a single cabbage seedling when she was nine years old blossoms into Katie's Krops, a nonprofit with 73 gardens dedicated to ending hunger. Retired middle school teacher Mr. Law battles personal health issues as he hand delivers more than a thousand sandwiches nightly to the hungry in Minneapolis. This documentary tells the tale of these remarkable individuals and the challenges they face when upholding their values and forging their own path of service to others.
Sponsorship provided by Portland Police Bureau Sunshine Division, The Oregon Food Bank, KBOO Community Radio and Farmers Ending Hunger.