From our sponsors: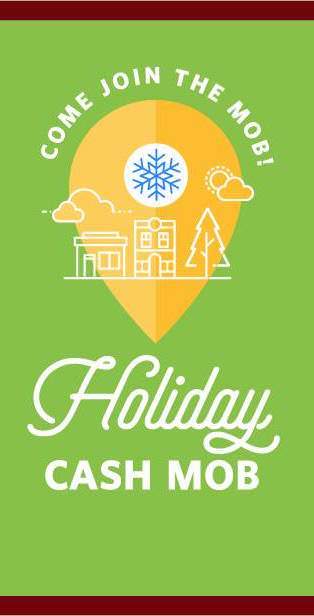 Portland Saturday Market Holiday Cash Mob
November 19, 2016
10 a.m. – 2 p.m. | Free
More info: portlandsaturdaymarket.com
Portland Saturday Market
2 SW Naito Parkway, Portland
Portland Saturday Market will be hosting a holiday "Cash Mob" on Saturday, November 19 from 10:00 a.m – 2:00 p.m. at 2 SW Naito Parkway. The cash mobs are part of Constant Contact's and Portland SaturdayMarket's larger efforts to encourage local holiday shoppers to "buy it in your own backyard," while raising awareness and donations for the Oregon Food Bank this holiday season.
As a great way to bridge the online and offline experience, cash mobs bring communities and local businesses together, inspiring customers to shop locally. Holiday shoppers are encouraged to visit the Portland Saturday Market and participate in their cash mob by bringing a canned food donation for the Oregon Food Bank, while also taking advantage of the prizes, premium giveaways, and store gift cards that will be awarded during the event.
"The Portland Saturday Market is nationally recognized as the largest continuously operating open-air arts and crafts market in the country, bringing together small businesses creating handmade arts, crafts and foods, which makes it a perfect location for hosting a cash mob this holiday season," said Reid Decker, marketing coordinator. "Through the support of Constant Contact, it's email marketing tools and feet-on-the street efforts to drive awareness for the cash mob, we're able to shed a light on Portland small businesses and support a great cause."
To drive awareness for the cash mob, Portland Saturday Market has been working with Constant Contact, part of Endurance International Group's (NASDAQ: EIGI) family of brands. Specifically, Constant Contact is supporting the cash mob promotions and sponsoring Portland Saturday Market's cash mob giveaways, gift cards and feet-on-the-street guerilla marketing efforts. As a Constant Contact email marketing customer, Portland SaturdayMarket is driving interest for the cash mob through its online marketing efforts.
"Small businesses are the backbone of our country, fostering entrepreneurship, contributing to the local economy, creating jobs, and oftentimes supporting neighborhood nonprofits," said Hannah Budreski, senior director of marketing programs, Constant Contact. "We're proud to be working with Portland Saturday Market as part of our overall mission to help small businesses take advantage of email marketing technology to do more business, bring communities together and give back to local charities."