From our sponsors: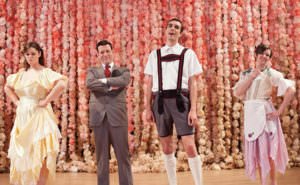 Art, Music, Theater, Free Concerts & More @ Marylhurst University
More info: events.marylhurst.edu
Marylhurst University
17600 Pacific Highway (Hwy. 43)
Marylhurst, 97036
Through the arts, we're exposed to new ideas and perspectives. That's why at Marylhurst University you'll find an amazing array of music, visual art and cultural events in beautiful, historic venues.
Visual arts at Marylhurst are on display all over campus. The Art Gym is one of the premier galleries in the Pacific Northwest. Its name comes from its former use – Marylhurst students once played basketball in this gymnasium space. Since 1980, The Art Gym has showcased prominent artists from the Northwest and beyond. Outdoor installations include sculptures by such noted artists as M.J. Anderson, Mel Katz, Lee Kelly and Michihiro Kosuge. Mayer Gallery, in the Mayer Art Building, and Shoen Library's Streff Gallery host varied exhibitions by alumni, students, faculty and community members.
Music at Marylhurst features our internationally award-winning Marylhurst Chamber Choir, the Marylhurst Guitar Ensemble and the Marylhurst Jazz Ensemble, among others. Every year we welcome world-renowned artists, such as Gilbert & Sullivan interpreter Alastair Donkin from England. In 2016-17, Marylhurst musical performances will include Gilbert & Sullivan's The Yeomen of the Guard. Come summer, our free concert series, Summer on the Green, welcomes bands like Nu Shooz, Pepe and the Bottle Blonds, Quarterflash and 3 Leg Torso. Marylhurst hosts the annual Handmade Musical Instrument Exhibit and Portland Classic Guitar series, too.
Our Marylhurst Reading Series was inaugurated in 2010. The series offers readings and author events, free of charge, featuring diverse writers and thinkers. The 2016-17 line-up includes Darius Kazemi, Stephanie Adams-Santos, Danielle Deulen and more.
So if you're looking for cultural enrichment, look no further than events.marylhurst.edu. You'll be pleasantly surprised by what you find here.
Marylhurst University: 10 miles south of Portland on Highway 43 between Lake Oswego and West Linn.