From our sponsors: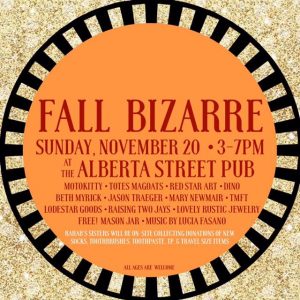 FALL BIZARRE Art/Craft Sale
November 20, 2016
3-7 p.m. | Free | All Ages
More info: Facebook
Alberta St. Pub
1036 NE Alberta St., Portland
Fall Bizarre is a one day event featuring local artists & crafters selling their rad goods. Come enjoy live music while you shop for home crafted holiday gifts! Sunday Nov. 20th, 3-7pm at Alberta Street Pub. The day will include live Music by Lucia Fasano & Free! Mason Jar, local craft beers, & food! Holiday shopping never got more fun & easy. All ages welcome!
Fall Bizarre is working alongside local non-profit Rahab Sisters. A Rep from the organization will be on site collecting donated travel sized goods, new socks, toothbrushes, toothpaste, TP and other toiletry items.
Featured vendors include:
MotoKitty, TotesMaGoats, The Lovely Rustic Jewelry, RaisingTwoJays, Lodestar Goods, TMFT, Red Star Art, Jason Traeger Art, + MORE!! Music by Lucia Fasano and Free! Mason Jar.