From our sponsors: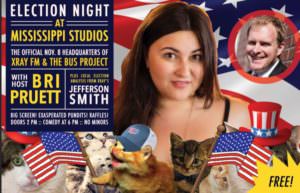 Election Night in America
Hosted by Bri Pruett
November 8, 2016
2 p.m. | Free
More info: Facebook
Mississippi Studios
3939 N Mississippi Ave, Portland, Oregon 97227
Spend election night with Mississippi Studios, XRAY.FM and The Bus Project.
News and Burgers from 2pm-6pm
Election Night Party 6pm onward!
The incredible Bri Pruett helps make sense (and nonsense) of the election, while XRAY.FM's Jefferson Smith unpacks the local results. Your favorite pundits and talking heads will be projected on the big screen, plus raffles, uplifting activities and special guests peppered throughout the night! Election coverage will also be playing in Bar Bar and projected on the patio.
This event is FREE! There'll be nowhere to run... except to Mississippi Studios for ELECTION NIGHT IN AMERICA!
Raffle: Enter to win a "Basket of Adorables" OR a "Basket of Deplorables" Proceeds from the raffle go to XRAY.FM and the Bus Project.