From our sponsors: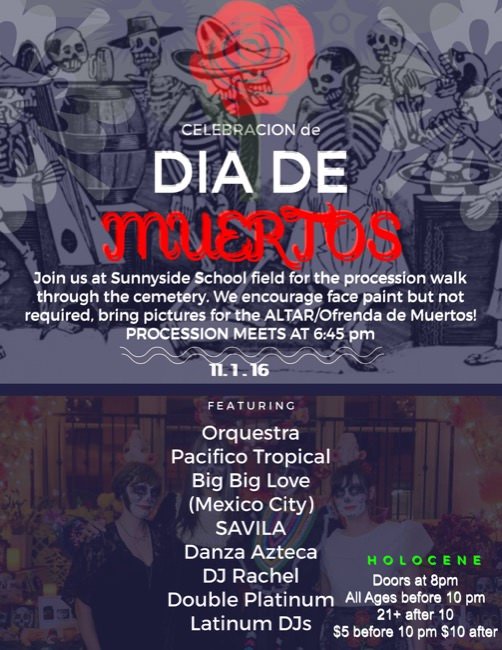 Dia De Los Muertos // OPT / Big Big Love / Savila / Danza Azteca
November 1, 2016
8 p.m. – 1 a.m. | $5 Before 10, $10 After | All Ages until 10 p.m., 21+ After
More info: holocene.org
Holocene Portland
1001 SE Morrison St, Portland, Oregon 97214
Orquestra Pacifico Tropical
Big Big Love
Savila
Danza Azteca
DJ Rachel E Aguirre
Double Platinum Latinum DJs
—
OPT:
Deep in the vein filled jungles of each of our hearts beats a music with roots as wide as continents and influence as deep as time itself. Cumbia, music of the Southern American Hemisphere. Orquestra Pacifico Tropical have taken this frenetic, addictive rhythm and accomplished what musicians across time and space have always done, bringing crowds into a blistering dance frenzy. From clubs to the forests of the Pacific Northwest, to hear the ecstatic thump, rumble, and sheer brilliance of the racing rhythms of coastal Colombia side by side with the psychedelic guitar explorations of the Peruvian rain forest is to travel across continents and through time with Orquestra Pacifico Tropical as the guide. WIth respect to those who came and innovated before us, and armed with an arsenal of percussion, woodwinds, horns, accordion and guitars, these 11 friends have come together in the spirit of capturing and breathing new life into this most essential of musics. Cumbia, music of the people.
Featuring members of Sun Angle, Deer or the Doe, O Bruxo, Ioa, Lewi Longmire Band,Tu Fawning, Point Juncture WA, Modernstate, Jippedo and Team Evil, Orquestra Pacifico Tropical's wall of sound is dedicated to expanding the music of Central and South America to the people and dance floors of the Pacific Northwest.
—
Big Big Love:
Big Big Love is a rock band formed by four young friends from Mexico City's south area. The project is distinguished by their energetic live shows in addition to their epic and emotional compositions. They released their first EP in 2013 and in 2014 the band released two new singles ( "Family Flag" and "Tender Men") that led them to play important shows in Mexico City sharing stage with bands such as Beach Fossils and The Bright Light Social Hour. In 2016 they will be releasing their first LP called "Friendship", recorded, mixed and produced by them and mastered by Greg Calbi (Talking Heads, Tame Impala, St. Vincent, etc). The first single is called "Tibias" achieving more than 200,000 plays on Spotify.
—
Savila:
Savila is a medicinal plant that grows wild in tropical climates all over the world as well as the name of cumbia/latin/world/r&b inspired music and visual art project by guitarist Fabiola Reyna, vocalist Brisa Gonzalez and guest percussionists. Joining them on drums for this performance will be Papi Fimbres of OPT and beyond.