From our sponsors: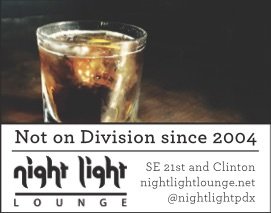 Holiday Parties at Night Light Lounge
Mon-Fri 2pm – 2:30am
Sat-Sun 10am – 2:30am
More info: [email protected]
Night Light Lounge
2100 SE Clinton Street, Portland OR 97202
(503) 731-6500
Host your company holiday party, gift exchange or private event at the Night Light! Reserve the back room and enjoy full service food and drink from our friendly and attentive staff! Email [email protected] for more information!
A bar and cafe that emphasizes quality, comfort and culture.
We have been inspiring the Southeast Clinton neighborhood with carefully crafted cocktails since 2004.
Our kitchen boasts high quality, conscientiously sourced ingredients prepared with care & attention at a surprisingly low price.
The Night Light features sidewalk seating, and a fabulous all season patio: heated on demand, covered for the rain, and sunny when the rain retreats.
And join us for our weekend brunch. Featuring tasty eats and drinks the entire family can enjoy.