From our sponsors: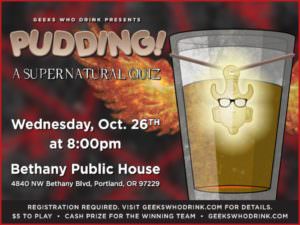 Geeks Who Drink Present PUDDING! A Supernatural Quiz
October 26, 2016
8 p.m. | $5 / player | 21+
More info + RSVP: geekswhodrink.com
Bethany Public House
4840 NW Bethany Blvd, Portland, OR 97229
Have you ever called your pet "Assbutt"? Do you frequently lose shoes? Does the word Wincest mean something to you? On October 26, Geeks Who Drink will pick the music and you'll shut your cakehole as we bring you Pudding! A Supernatural Quiz!
You've got roughly until Samhain to brush up on all 11 seasons of the cult CW show, so gas up the Impala and get rolling. That's a lot of hot guys hunting demons to cram in your head, so put down the pie and start watching. We're keeping this as straightforward as possible and avoiding questions about spinoffs, animated series and fanfic.
Legend has it, this quiz is $5 per player to play and we'll be accepting cash only. Winners will take home their share of that money. Otherwise, normal Geeks Who Drink rules apply. No phones, notes, or using team members as blood sacrifices to get hints from Azazel and your team is limited to six hunters. Choose them wisely!
Check below for venues and times and make sure to arrive early. You are required to register your team in advance (http://bit.ly/ThemeQuizReg), but tables will still be available on a first-come, first-serve basis.