From our sponsors: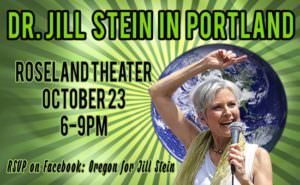 Dr. Jill Stein
October 23, 2016
6-9 p.m. | Free | All Ages
More info: jill2016.com
RSVP on Facebook
Roseland Theater
8 NW 6th Ave, Portland, OR 97209
The Green Party candidate for President Dr. Jill Stein will be speaking at the Roseland Theater in Portland, Oregon on October 23. The free rally starts with live music at 6pm, guest speakers and features Jill Stein at 8pm.
Jill Stein is the only true progressive candidate in the 2016 presidential race and the only candidate with the best interests of the people, and the planet we live on at heart.
We have more than just two options when voting for our next president. But don't take my word for it, come hear Jill Stein for yourself! Jill Stein has a great vision for our country and would be a president we could all be proud of. If you haven't heard Jill Stein live yet for yourself, you are missing out on the real deal. We hope to see you this Sunday and for you to join us in standing up for all the people who are currently voiceless in our democracy.