From our sponsors: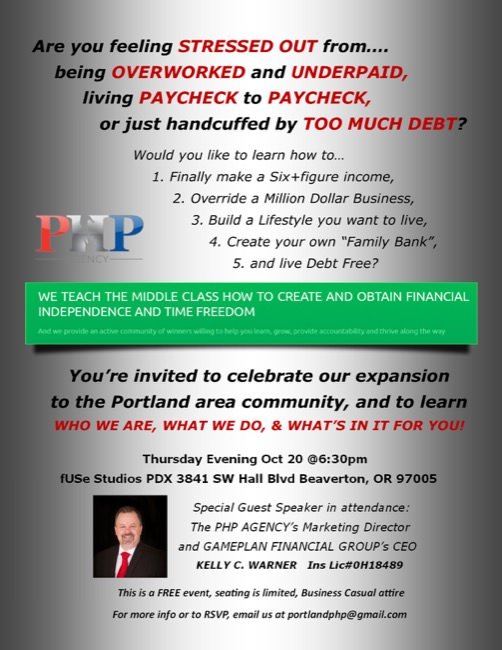 The PHP Agency "How To Go From W-2 to 1099"
October 20, 2016
6:30 p.m. Free
More info or to RSVP: [email protected]
fUSe Studios PDX
3841 SW Hall Blvd, Beaverton, OR 97005
Are you feeling stressed out from …
being overworked and underpaid,
living paycheck to paycheck,
or just handcuffed by too much debt?
Would you like to learn how to …
Finally make a Six+ figure income
Override a million dollar business
Built a Lifestyle you want to live,
Create you own "Family Bank,"
and live Debt Free?
We teach the middle class how to create and obtain financial independence and time freedom.
You're invited to celebrate our expansion to the Portland area community and learn who we are, what we do, and what's in it for you!
Special Guest Speaker in attendance: The PHP Agency's Marketing Director and Game plan Financial Group's CEO Kelly C Warner.
This is a FREE event, seating in limited, business casual attire.