From our sponsors: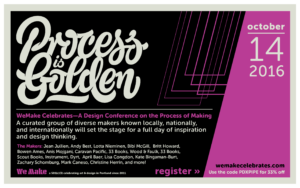 WeMake Celebrates
October 14-15, 2016
General $175
Use code PDXPIPE for 33% off at eventbrite.com
More info: wemakepdx.com
The Armory
128 NW 11th Ave, Portland, OR
For a second year, local and international makers, designers, photographers and musicians will take the stage to share insights about the creative process and teach their craft in hands-on workshops during WeMake Celebrates on Friday, October 14 and Saturday, October 15.
The entire event is hosted by WeMake, a local, non-profit 501 C(3) that helps to foster art and design in Portland creative community through hands-on experiences, creative dialogue and design-in-action initiatives. Last year's conference drew 350 attendees and raised $3000, which was donated to Ethos Music Center and Schoolhouse Supplies.
DAY 1 – Friday, October 14 – at The Armory in Portland's Pearl District
Early bird tickets are $150. Once again, proceeds will be donated to organizations that support arts education in local schools.
9 am – 5:30 pm (Doors open at 8 pm)
6 pm – After-Party at Wieden+Kennedy with live performances by Portland's award-winning R&B group The Norman Sylvester Band.
Keynote speakers include:
French illustrator and designer Jean Jullien
Brooklyn based designer and illustrator Lotta Nieman
Nomadic Photographer Andy Best
Art Director, stylist and more Bowen Ames (Seattle)
Lead guitarist and musical director of Beyoncé's backing band and yoga guru Bibi McGill
Portland Garment Factory's founder and Fashion Apparel designer, Britt Howard (Portland)
The dynamic and talented fine artist, illustrator and author Lisa Congdon is this year's Master of Ceremonies.
The lineup also features Small Scale, a panel of local makers who have grown their businesses to national levels while still remaining the neighborhood shop around the corner.
On deck:
Leather Crafter & Designer Matt Pierce (Wood&Faulk), Ceramicist and designer Shannon Guirl (Caravan Pacific), Creative Director & Entrepreneur Dave Selden (33 Books), President at Scout Books Laura Whipple
Performance: Poet, artist, and performer Anis Mojgani, is a two-time National Poetry Slam Individual Champion and winner of the international World Cup Poetry Slam.
Rounding out the day will be an app demo by Kevin Long, Co-founder & CEO at The Dyrt.
DAY 2 – Saturday, Oct. 15 – Workshops
The second day is packed with hands-on experiences. Separate tickets are required for workshops and space will be limited.
Workshop Artists – Kate Bingaman-Burt (local illustrator and author) & Zachary Schomburg (poet, writer, teacher), Mark Caneso (a master of type), Christine Herrin (Adobe Resident, illustrator & designer)
Sponsors:
Adobe, Scout Books, Widen + Kennedy, Swift, Creative Circle, Sokol Blosser Winery and Widmer Brothers Brewing
About WeMake
Founded in 2011, WeMake has helped fuel a passion for learning, sharing, and creating in Oregon's creative community. This volunteer-run collective fulfills their mission of fostering art and design by offering hands-on experiences, creative dialogue, and design-in-action initiatives. Throughout the year, WeMake holds hands-on maker workshops and a collaborative artist discussion series called sketchXchange.
For the past three years, they have hosted WeMake Celebrates, their anniversary event that has raised more $40,000 for educational arts and music programs. This year, WeMake Celebrates expands to an entire day of programming with community building at its center.