From our sponsors: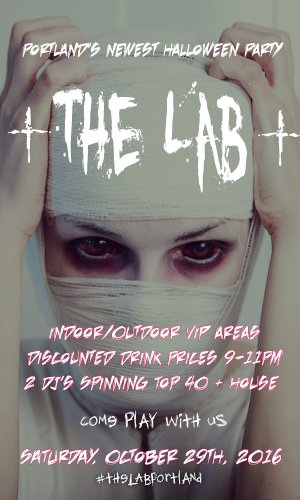 The Lab Halloween Party
October 29, 2016
9 p.m. | $29 EB GA, $40 Doors | 21+
More info: thelabportland.com
District East
305 SE 9th Ave, Portland, OR 97214
PORTLAND'S NEWEST HALLOWEEN EVENT The LAB is a twisted, naughty and dirty "doctor and nurse" inspired Halloween Party -this doesn't mean you have to dress in medical garb, it means WE WILL! From insane asylum bartenders to sexy and naughty nurse cocktail servers. We'll be serving syringe shots and test tubes full of liquid fun, the perfect prescription for your Halloween night.
This Halloween 2016, you are summoned to lose yourself in sinful debauchery and mischievous escapades at the first annual LAB PORTLAND.
From monsters to tiaras to themed couples and groups, the LAB is COSTUME REQUIRED so wear your sexiest, darkest, devilish or bizarre Halloween costume and get ready to play! We've planned a night of hair-raising mayhem that will be to die for. The LAB is full of mischief and festive fun behind the velvet ropes, there's always tomorrow to redeem your wicked ways!