We are giving away a pair of tickets to Pink Lady Presents The Cat's Meow feat. Johnny Nuriel, Dee Dee Pepper, Hyacinth Lee, Portland Rhythm Shakers @ The Secret Society on October 14. To win, comment on this post why you'd like to attend. Winner will be drawn and emailed Friday, October 14.
———————————————
From our sponsors: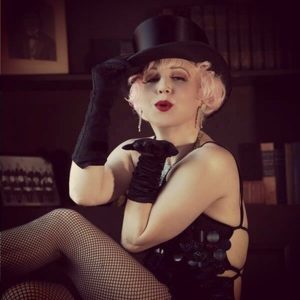 Pink Lady Presents The Cat's Meow feat. Johnny Nuriel, Dee Dee Pepper, Hyacinth Lee, Portland Rhythm Shakers
October 14, 2016
Doors: 8:30 pm / Show: 9 pm | $12 ADV, $15 Doors | 21+
More info: secretsociety.net
The Secret Society
116 NE Russell St, Portland, Oregon 97212
The Cat's Meow
Step back in time and into a Speakeasy where you can drink, dance and enjoy live variety entertainment & classic burlesque all to the live music of Pink Lady & John Bennett Jazz Band!
Johnny Nuriel
Johnny Nuriel is a powerfully androgynous and versatile performer known for his signature fusion of fire, object manipulation, burlesque, belly dance, aerial, and LED performance. He is a dynamic mover, uniting these multiple disciplines to create unique and vibrant performances.
One thing you may not know about Johnny Nuriel is that he is a seasoned vocalist with a background in musical theater and opera.
Johnny draws on his natural blend of Masculine and Feminine to create his stage aesthetic, delivering shocking visuals through the use of elaborate costumes, veils, masks, and dramatic stage makeup. He is the co-producer of the hit monthly show, Boyeurism, a show that delivers its audience a dazzling array of drag, circus, burlesque, and live vocal performances showcasing a diverse range of masculinity. Johnny performs with the Caravan of Glam, a travelling queer cabaret troupe that performs throughout the United States. You can also catch Johnny Performing Fire at Dante's as part of SINFERNO.
Dee Pepper
Bio: "Dee Dee Pepper was raised in the feral Oregon wilderness. Her life-long love of theatre, glamour, scary movies, and absurd humor gives her a weird and wonderful role in the burlesque world. Look for performances and shows created by Pepper & Bones Presents, the production team Dee Dee runs with partner Wanda Bones."
Hyacinth Lee
Beginning as Portland's hardest working stage kitten for Orchestre L'Pow made burlesque to live music as something that has a very special place in her heart. She has performed all over the Pacific Northwest and Bay Area and also had appearances at the Colorado Burlesque Festival and at the Oregon Burlesque Festival. She utilizes natural rhythm, humor, and charisma to entertain… Ladies and Gentlemen, let me introduce to you the fabulous Miss Hyacinth Lee!
The Portland Rhythm Shakers
These darling, delightful, dazzling & talented ladies are Pink Lady & John Bennett Jazz Band's sweet little partners in crime! They are perfect embodiment of vintage jazz dancers and they make each The Cat's Meow! complete. Get ready to be impressed & to fall in love with them, if you haven't fallen already!
Pink Lady & John Bennett Jazz Band
Pink Lady, who is the perfect combination of a sweet flapper and sultry siren, performs & sings the songs of the Prohibition Era in this combo which includes rag time piano jockey John Bennett, vintage arch top guitarist Steve Boden, Wayne Travillion on trombone, Will Amend on Double Bass and Joe Haegele on Drums. Together they have been playing that corruptive hot jazz for over 100 years!