From our sponsors: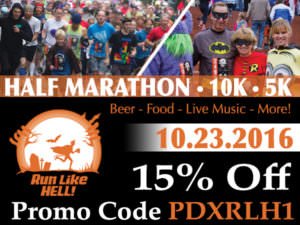 Run Like Hell Half Marathon, 10K & 5K
October 23, 2016
7:00am – Packet Pick up
7:45am – Half Marathon race
8:00am – Kids half mile
8:30am – 10k race
9:30am – 5k race
More info: terrapinevents.com
Downtown Portland
The Run Like Hell returns on Sunday October 23rd and we invite you to join us for the spookiest run in town. The half marathon / 10k / 5k / kid's half mile run features a costume contest, a great post-race party, and the musical mile (bands will be on every corner for a mile of the course).
Run Like Hell has great race support, with aid stations every 2 miles, roaming bike medics, pacers to help you meet your goals and great volunteers. This race is not to be missed!
RUN LIKE HELL FEATURES:
HALLOWEEN HALF MARATHON
HUGE CUSTOM FINISHER MEDALS (HALF)
RACE PACERS (HALF)
COSTUME CONTEST
SWEET COMMEMORATIVE T-SHIRTS
TASTY BEER / CIDER AND MORE
BEAUTIFUL MOUNTAIN AND RIVER VIEWS
MUSICAL MILE (MUSIC ON EVERY CORNER FOR ONE MILE)
ENTERTAINMENT EVERY TWO MILES ON COURSE
GREAT RACE SUPPORT (AID EVERY TWO MILES)
SUPER FUN POST RACE PARTY
KIDS ZONE WITH OLIVE ROOTBEER AND DINGO THE CLOWN
MUCH MORE
*Please note there is a 15 min / mile time limit
for the half marathon!
HALF MARATHON: (Capped at 1500)
Tier one: $79 SOLD OUT!
Tier two: $89 (limited available)
Tier three $99 (limited available)
Race weekend: $109 (if available)
10K:
Tier one: $39 SOLD OUT!
Tier two: $45 (limited available)
Tier three: $49 (limited available)
Race weekend: $54 (if available)
5K
Tier one: $35 SOLD OUT!
Tier two: $39 (limited available)
Tier three: $45 (limited available)
Race weekend: $49 (if available)
KIDS' HALF MILER (shirt not included)
$8 (through Thursday prior to event)
$12 race weekend