From our sponsors: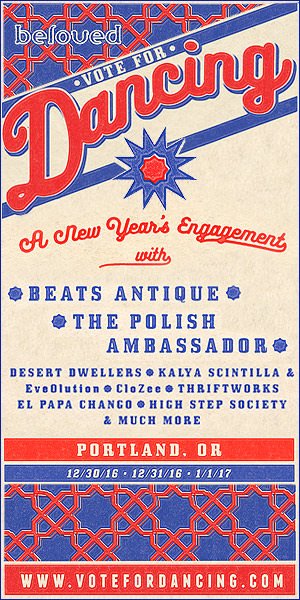 Vote for Dancing: The New Years Celebration That Dares to Reimagine Democracy
December 30, 2016 – January 1, 2017
Tickets available October 14 at votefordancing.com
Roseland Theater
8 NW 6th Ave, Portland, OR 97209
Grab your dancing shoes and head to Portland, Oregon for the 2017 New Year; organizers of the Beloved Festival just announced a three-day celebration at the Roseland Theater from Dec 30 – Jan 1, 2017. The event billed as "Vote for Dancing" will feature an array of visual arts and live musical performances with the nation's top dance-friendly acts including Beats Antique, Thriftworks, The Polish Ambassador and the Desert Dwellers to name a few. (Complete lineup at votefordancing.com)
Finding its intention and inspiration from a poem titled 'Cast All Your Votes For Dancing' written by Hafiz; 'Vote for Dancing' is a dance party rooted in mythological consciousness, but with a political awareness, embodying the spirit of the election year with a celebratory twist. Not just another New Year's dance party — Vote for Dancing will extensively transform Portland's most established Rock club into a setting that inspires participants to get involved in the civil process as part of a growing conscious movement working to give voice to dire environmental and social justice concerns, nationwide.
At Vote for Dancing, the Nominee is You.
Instead of focusing on specifics in electoral politics, organizers hope to empower the participants while building excitement towards civic action, creative resistance and a reimagination of democracy in an extensive transformation of Portland's most established Rock club into an energetic, art-filled community hearth.
Ringing in the New Year with ten musical acts, 'Vote for Dancing' will highlight a full spectrum of exciting musical and visual performances over two days in Portland. With a lineup that reads like the whos who of the electro-dance circuit, the event will highlight performances with Beats Antique, Thriftworks, The Polish Ambassador, Desert Dwellers, Kalya Scintilla ft EveOlution, CloZee, High Step Society, El Papa Chango and Portland's own, Barisone.
Special Beloved Presale begins Friday, 10/14 on the official Vote for Dancing website at http://www.votefordancing.com/. Due in part to the intimate setting of the event, tickets are expected to sell swiftly. Ticket buyers are encouraged to purchase tickets in advance.