From our sponsors: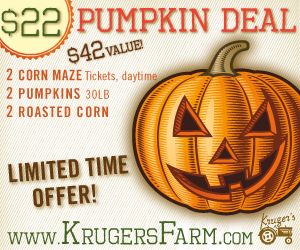 Kruger's Farm Pumpkin Package
Valid October 1 through October 31, 2016
$22 | Claim this deal at brownpapertickets.com
Almost 50% off a fall visit to the farm. This $42 value for only $22 includes: 2 regular corn maze tickets, 2 big pumpkins (30 lbs. or less), and 2 ears of roasted corn.
Valid only Monday – Sunday from 9 a.m. – 6 p.m. from October 2nd through October 31st, 2016.  ALL TICKETS, REGARDLESS OF THE START DATE ARE VALID OCTOBER 2 – OCTOBER 31, 2016.
Details:
2 Corn Maze Tickets: Valid during our regular corn maze hours 9 a.m – 6 p.m. daily. Not valid after 6 p.m. on Friday and Saturday for our Cabaret Corn Maze nights or Haunted Maze. You may pay the price difference at the gate ($4 cabaret per person/$8 per package or $9 haunted maze with cabaret per person or $18 per package)and upgrade to a Cabaret or Haunted maze ticket.
2 Big Pumpkins:  Valid for two pumpkins of 30 lbs or less each.  Sorry, this is for two pumpkins only.  Each pumpkin must weigh 30 lbs or less. If your pumpkin weighs more that 30 lbs you'll be charged for the additional weight at .40/lb.
2 Ears of Roasted Corn:  Yummy with butter and all of our tasty toppings.  The corn sometimes isn't ready until 11 a.m or so.  If, for some reason, we don't have it ready we'll happily substitute 10 ears of fresh corn that you can take home with you.