We are giving away a pair of tickets to Andrew W.K. The Power of Partying @ Revolution Hall on October 4. To win, comment on this post why you'd like to attend. Winner will be drawn and emailed Monday, October 3.
———————————————
From our sponsors: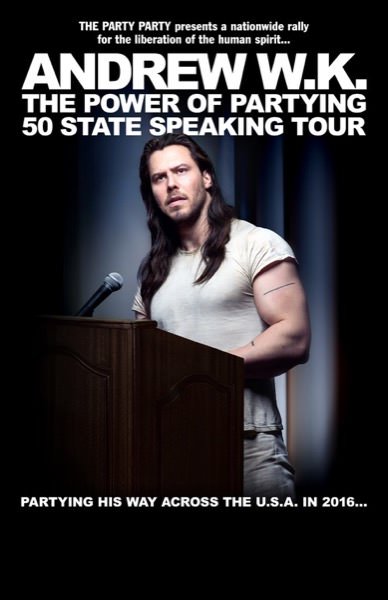 Andrew W.K. The Power of Partying
October 4, 2016
Doors 7 p.m., Show 8 p.m. | $20 ADV, $23 Doors | All Ages
Tickets: revolutionhallpdx.com
Revolution Hall
1300 SE Stark Street, Portland, OR
"I'm trying to make the most exciting music possible."–Andrew W.K.
Andrew W.K. is pleased to announce The Power of Partying, his first nationwide speaking tour, spanning the entire country with stops in all 50 U.S. states. Presented by The Party Party, each evening will be an intimate celebration of discussion, a pep rally for the inner spirit, and an optimistic look at the overwhelming intensity of life. The tour sees Andrew continuing his eternal mission to defend and promote human joy, and the never-ending collective search to find truth through partying. Tickets for all dates go on sale this Friday, July 15, 2016 at 12PM Eastern at AndrewWK.com.
This year celebrates Andrew W.K.'s tenth year as a party guru and motivational speaker, a journey that began with his now infamous four-hour lecture to a sold out NYU Skirball Center in 2006. On this new tour, each engagement will feature Andrew's speech on living the party life and also include an open question and answer session, as well as a chance to meet Andrew W.K. in person.
"This is not a political party rally, it's a rally about partying with the political elements set aside," insists Andrew. "This is my attempt to add something positive and unifying to the divisive atmosphere surrounding us in so many different forms. Without targeting or preaching to any one side, I want to see if we can party together in our common humanity. We will have a party about being people."
"By its very nature, the inner experience of a human being can be a vortex of confusion and clarity. The current climate in America isn't always aiding us in how to best grapple with the fundamental complexities of being who we are – being at our best. During this 50 state odyssey, we aren't looking for a specific stance on any particular political issue. Instead, we're looking to fortify the foundation of our spirit, so that we can each follow our individual destiny and pursue our own personal exploration of life as best we can. We are uniting around what we have in common – our shared humanity. This tour is a coming together for the sake of partying together. Even if we have different ideas from one another, or don't know all the answers to all the questions, we can still party together. This is a celebration of positive partying – this is a party about partying."
Age 4 Born in California and raised in Michigan, Andrew W.K. begins classical piano lessons. Encouraged by his parents, he continues to play piano throughout his young life, eventually taking up the drums in his teens and playing in numerous Detroit punk and metal bands.
Age 17 Begins recording solo material.
Age 18 Moves to New York City. Early recordings are circulated among record labels with the help of friends.
Age 20 Andrew plays dozens of shows up and down the East Coast, equipped only with a CD player, keyboard and microphone. Girls Own Juice, a debut EP culled from the early solo recordings, is released on Bulb Records.
Age 21 A second EP, Party Til You Puke, is released, also on Bulb. Andrew plays another series of one-man shows–including two support slots for Foo Fighters and a Belgian arts festival–before returning to New York to focus on forming a band. Members are assembled: Guitarist Jimmy Coup, formerly of Minnesota's Coup de Grace, drummer Donald "D.T." Tardy, late of Obituary, bassist Gregg R., and guitarists E. Payne and Sergeant Frank. The crew moves to Florida. Andrew signs to Island Records.
Age 22 Andrew W.K.'s debut album, I Get Wet, is recorded in Michigan, Los Angeles, New York City, Colorado, Minnesota, Florida. On October 29th, Mercury UK releases the "Party Hard" single, which enters the British charts at 14 as Andrew plays a series of sold out shows and appears on the cover of NME (twice!).
March 26, 2002 I Get Wet is released in the U.S. "This record is about 'not stopping' in every sense of the word, and every aspect of life, and it was created with determination that reflected that. Whatever you do in life, if you go full bore you're bound to get wet--with blood, sweat, urine, semen or girls' lubricant. This record is about cutting in to the heart of existence and getting wet. But it's also about having no fear, experiencing intense emotions–from passionate feelings of love and excitement to the most anger filled, hateful rages, and everything in between–embracing life and other people, and coming together as a party in celebration of possibilities, potential and opportunity. It's an explosion of human life."
The Future
"I like things to be strong because I feel that other people can derive strength from that themselves. And I try to reflect that strength, and purity, truth and passion for what we are doing in everything you see and hear. How it's not a fucking joke and that what we mean is very serious to us. I guess you could say this is a cause, but if so, it is a cause that is undertaken simply for its own sake."