From our sponsors: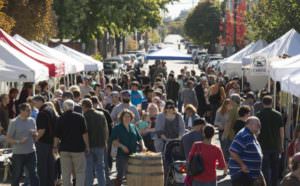 The Wedge
October 1, 2016
11 a.m. – 5 p.m. | All Ages
Tasting Tokens $15 ADV, $20 Doors
More info: thewedgeportland.com
Rogue Ales' Green Dragon Bistro and Brew Pub
SE 9th and Belmont. Street address 928 SE 9th Ave.
Next month, the streets surrounding Rogue Ales' Green Dragon Bistro will be the backdrop to The Wedge 2016, the Oregon Cheese Guild's signature event celebrating all things cheese. Hundreds of tantalizing handmade cheeses, specialty foods, and craft beverages will be available for tasting and purchase from more than 50 regional creameries, cideries, wineries, and artisan food and beverage producers. Bring a cooler and stock up on these often hard-to-find gems!
There is no admission charge to enter The Wedge festival grounds. Sampling cheeses and specialty foods requires purchase of a tasting ticket, available in advance for $15 or at the door for $20. All tickets come with a $5 voucher to purchase your favorite new cheese! Tasting tickets and information at www.thewedgeportland.com
In addition to the wide selection of Rogue Ales and other beers at the Green Dragon, this year's event will feature a number of local cider, wine, spirits, mead, and even sake producers. To taste through the array of beverages, we offer a Wine & Cider Flight – $10 for tastes from all participating alcoholic beverage producers and a commemorative glass to take home. Other activities include cheese wheel bowling, "cheese hole", face painting, photos with our mascot, and a visit from the dairy princesses!
To kick off this year's event, a Cheesemaker Dinner will be held at Cyril's at Clay Pigeon Winery Friday, Sept. 30 featuring five Oregon creameries. Cheeses will be integrated into each of five courses, including a "tour of Oregon" cheese plate and dessert. A wine, cider, and beer flight expertly paired with each course will be offered as an add-on. Cheesemakers will be present to tell their stories and share their cheese. Dinner $60, drink flight $35, includes gratuity.
In-depth tasting and pairing Master Classes at The Wedge are $15 each, including substantial samples, and will take place in the barrel room throughout the event:
Cider and Cheese: Oregon's Hottest New Couple with James Kohn from Wandering Aengus Ciderworks and Steve Jones of Cheese Bar and Chizu – Cider's natural balance of acidity, fruit, and carbonation make it the perfect pairing for cheese. Taste your way through this exciting new category and all of the intriguing and delicious pairing options it has to offer. Includes tasting of five ciders with cheese pairings.
Wine vs Beer: A Throwdown for the Best Pairing with Steve Jones of Cheese Bar and Chizu – You might think that cheese and wine are the classic pairing, but Portland's resident cheese expert Steve Jones begs to differ. The variety in style and complexity of craft beers might just provide the optimal match for our local cheeses. Want to see for yourself? In this Master Class, taste through five pairing match-ups, and vote to determine which beverage is the ultimate companion for cheese.
Milk|Texture|Rind|Flavor: A Tour of World Cheeses, Made in Oregon with Hillary Renshaw from New Seasons Market – What's the difference between a bloomy and a washed rind? What's an Alpine style cheese? Do any local producers make French, Italian, or Mexican style cheeses? Answer these questions and more as the New Seasons cheese experts give you the rundown on cheese style, brought to life with a no-kidding cheese plate composed of Oregon cheeses representing each style.
Special thanks to our sponsors: Rogue Ales, New Seasons Market, Tillamook, Umpqua Bank, Face Rock, Wandering Aengus Ciderworks, and Willamette Valley Cheese Company.